Silvia Doomra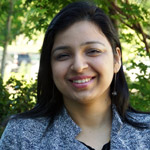 Silvia Doomra is a program manager for Azure. She is also a volunteer teacher with TEALS, the program supported by Microsoft Philanthropies that leverages the expertise of volunteers from many different technology companies to start and support sustainable computer science education in schools across the US. Over two years, the classroom teacher gradually takes over the responsibilities of teaching the course without volunteer support. The team-teaching and volunteer system of TEALS creates a strong ripple effect: it empowers teachers who can multiply the impact by providing computer science education to hundreds more students over the years. Doomra videoconferences in to an introduction to computer science class in Quincy High School, set among fields of wheat and potatoes in rural Eastern Washington.
Here, she shares why she is grateful for the opportunity to change students' lives through computer science. Learn more about how to volunteer with TEALS here.
---
Not long ago I organized a day that would turn out to be life-changing. I had set up a tour of the Microsoft Redmond campus and one-on-one job shadowing for each of our 20 TEALS students who joined us. Some students got to see high level meetings and got a sense for what happens in the real world. They asked personal questions like, "What's it like to work at Microsoft?" and, "How much do you get paid?"
Later, a student's parent wrote to Mr. Kondo, the Quincy teacher the other TEALS volunteers and I co-teach with. The parent said, "I'm so glad you had a field trip and the students got a chance to meet real people performing that job. It helped my son make a decision that he wants to pursue computer science in the future." It made me realize we are having a substantial and lasting impact.
That's why I am so proud to volunteer with TEALS.
When I was still in college in India, I took a part-time job teaching mathematics and physics at a high school level. Helping someone along the path I was taking at the same time gave me a lot of satisfaction.
I really liked the experience of teaching. So when I accepted a job at Microsoft, I continued volunteering at nonprofits. What I really wanted to do was help students, like I did in India, but on a larger scale. TEALS gave me the platform to do that.
The best part of volunteering with TEALS is debugging programs the students write. When I hear a student say, "Oh, this is how it's done, now I get it!" I realize it's making sense to them. It gives me the feeling that I know a bit and can actually help these students.
I feel very fortunate. I'm having a great time teaching with Mr. Kondo and working with such dedicated students who are interested in learning. I'm blessed to have the opportunity to help these guys achieve their goals.
The students and I have conversations about working in this field and computer science as a career. In class they started with Snap! and moved on to Python. I told them that this is serious programming we do in big companies like Microsoft. Our students are excited, and some of them are interested in pursuing computer science in the future.
When I visited Quincy, I had a conversation with the head of school. Quincy is a hub of data centers, and the principal wanted to equip students better so they don't have to move out of town to get jobs. That's what we're doing with TEALS.
Over the course of the class, I've seen a lot of change in the students' attitude. What's more, volunteering with TEALS has changed me- quite a bit! For a start, my husband says I'm a lot more patient!
This experience has made me more thankful for my life and the opportunities I've had. Every day I feel more blessed to be part of Microsoft and TEALS, to give something fruitful back to the community. Every day I teach kids I feel more grateful for my life.