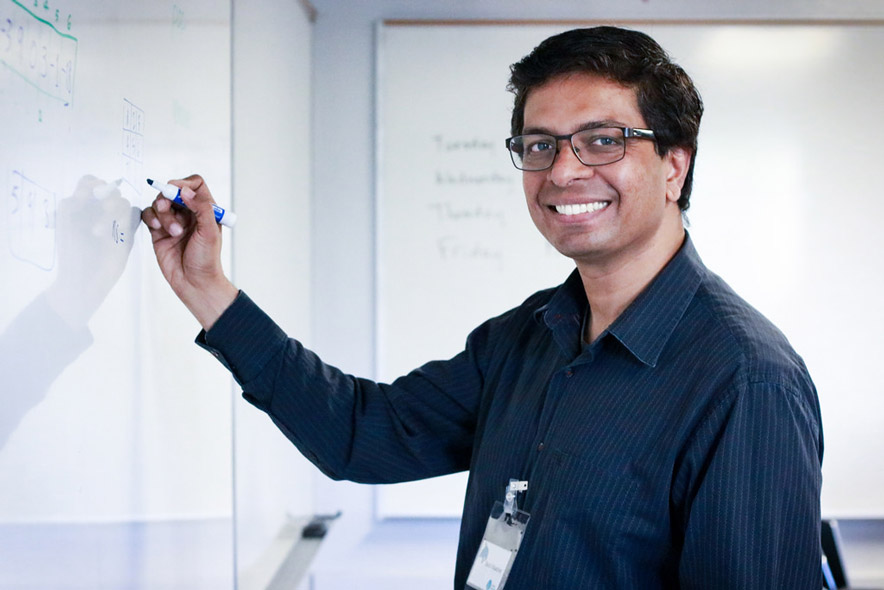 Atul Hatalkar
Atul Hatalkar is a Principal Engineer at Intel's Internet of Things Group. He also volunteers as a co-teacher in TEALS, a grassroots computer science education program supported by Microsoft Philanthropies. TEALS relies on professionals across the country who come from more than 200 different tech companies. These volunteers bring computer science to high schoolers who wouldn't have access to that education otherwise; they also train teachers to eventually teach computer science on their own, freeing volunteers to bring the program to even more schools. By building sustainable computer science education programs from coast to coast, TEALS aims to reach more than 11,000 students in the 2016-2017 school year.
Hatalkar is one of the volunteers helping make that happen. He volunteers in a TEALS introduction to computer science class at BASIS Chandler, a charter school outside Phoenix. Learn more about how to volunteer with TEALS here.
---
Back in 1980s, while in the 11th grade, I accidentally came across a book on computer programming. At that time, I knew nothing about computers and didn't have access to one. So I wrote and "ran" my programs only on paper, with absolutely no way to confirm that my code was correct.
Today computers are everywhere. The majority of the items that we use are either already computerized or will become "smart" very soon. But as a society we severely lack the skills needed to develop new technologies, especially the software.
I routinely ask myself: How do I make kids interested in STEM careers and particularly in software development? Whenever I get a chance, I teach math and programming to young kids. This normally happens in my living room or around the dining table.
In 2015, I became aware of TEALS and immediately realized that it was one of the best opportunities to expand my contributions. The idea of teaching the teacher was very powerful, too. It was a no-brainer for me to volunteer for TEALS at BASIS Chandler.
Teaching in a formal high school setting has been a rewarding experience. For me, the best part of teaching happens when a new concept clicks in students' minds and their eyes sparkle. While there isn't enough classroom time to teach everything in detail, my goal has been to help my students get over the critical conceptual humps so they can progress further on their own.
The feedback from the students and their parents has been very positive. I consistently hear that, over the weekends, the kids are exploring new ideas on their own. They are visiting YouTube and code.org to understand coding concepts—not for the sake of homework assignments, but because they are genuinely interested. This transformation in students' attitudes excites me!
Under the TEALS banner, professionals from across the industry are coming together and collaborating with local schools. Yes, teaching in my living room helps young people. But TEALS has enabled me to make an even larger impact on the kids in my town.