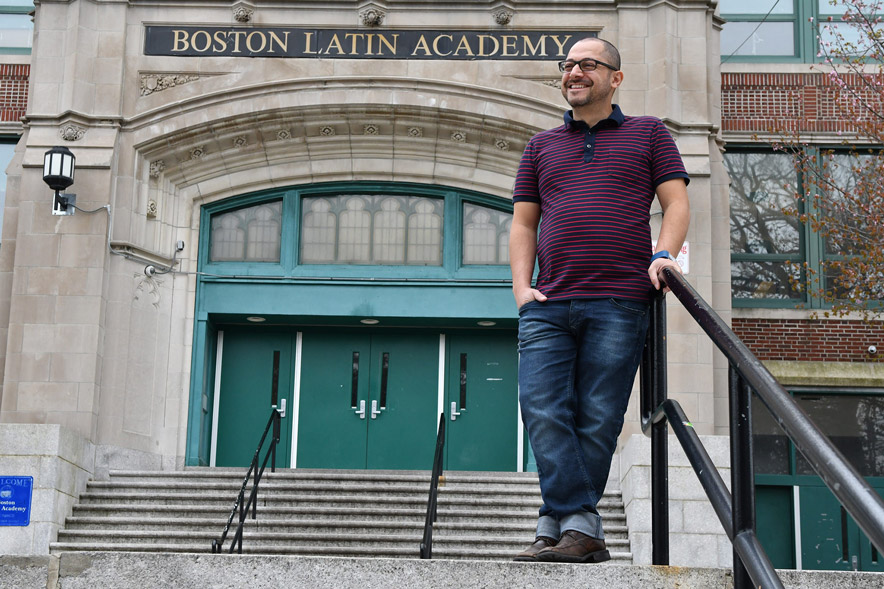 Leonardo Souza
Leonardo Souza grew up in a small city near Sao Paulo, Brazil, where he drifted through school without finding a subject that really excited him. When he entered a technical high school and learned about computer science, he was "totally hooked." The introduction to computer science completely altered his future, bringing him eventually to Boston, where he is a senior software engineer at Firecracker, a company that runs studying apps for medical students.
Souza wanted to offer young people the same life-changing opportunities computer science afforded him, so he began volunteering in an AP computer science class with TEALS in the 2015-2016 school year. TEALS is a grassroots program, supported by Microsoft Philanthropies, which matches computer science experts with classroom educators to team-teach CS in high schools throughout the US. He and three other volunteers work with a classroom teacher at Boston Latin Academy, where they are helping build a sustainable computer science program. TEALS volunteers, who come from more than 200 tech companies nationwide, teach students and partner with the classroom teacher becomes self-sufficient to teach CS in two years.
Learn more about how to volunteer with TEALS here.
---
I love teaching, and I love education—I always have. I used to teach English when I lived in Brazil, where I grew up, and I have worked as a technical instructor. I'm passionate about kids and education, particularly in computer science. After all, I have seen how much it turned around my life.
That's why I love TEALS.
I love the hands-on projects that form a core part of the TEALS curriculum and watching the students' evolution. At first, a lot of students are uncertain about whether they are in the right place. Then they start working in class, asking volunteers questions. Finally, they get into creating a project—and enjoying it!
We're teaching 30 kids this year. Many of them didn't see themselves as "computer science people," but then here they are creating a whole program. They really get it!
Without TEALS, the vast majority of these high school students wouldn't have a computer science teacher. Then they would go to college and never realize computer science is something they would enjoy and have fun with—something that has a lot of jobs that pay well. That's especially important information for students who come from disadvantaged backgrounds.
I used to do other computer science volunteering, but I taught it on my own. I put together the curriculum, and when I stopped teaching, there was no one else to pick it up.
That's why TEALS is terrific. It's not just putting me there to teach, like in other programs. I'm also helping a teacher learn to teach computer science so they can be self-sufficient. I know someone else can continue the work after I'm done, so it's scalable. I can go into another classroom to help. It's also awesome to have an expert teacher who can help me with my teaching. It's basically perfect.
If it were up to me, everyone would be exposed to computer science. My own daughters are—in fact, my 12-year-old goes to computer science camps, where she's been doing game design and game development.
More and more of the future is defined by computer science. That's why everyone should be exposed to coding and then decide whether or not they want to continue. Computer science is a building block, a fundamental skill that will help every person in their life.
And it's magical to watch a student write their own program. They write the code, see the computer running and realize, "I did that." It can be life-changing—but students first need the chance to learn, and use, computer science.