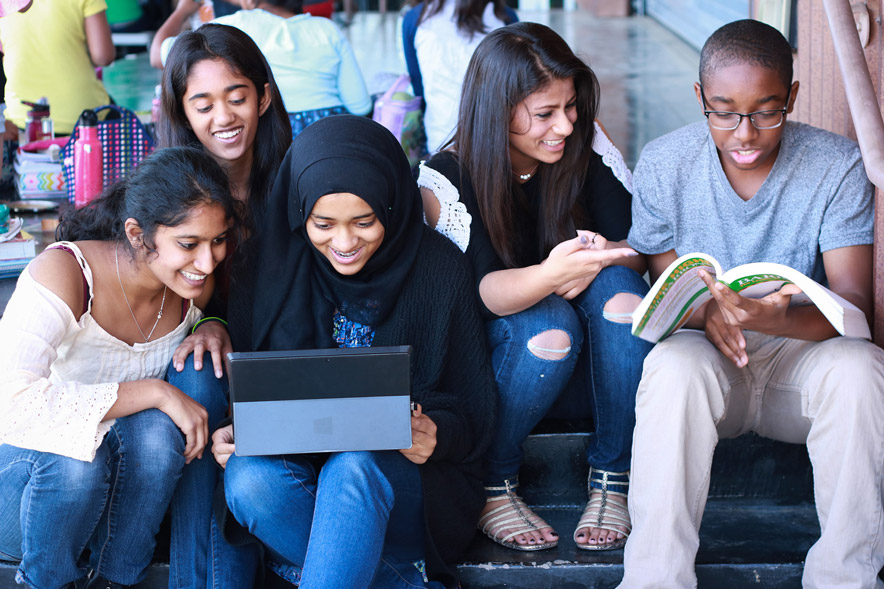 Shaded from the Arizona sun in his grandfather's garage, Mark Dancho used to help wire up a doorbell or build a light table together – tinkering projects that relied on the older man's experience as an electrical engineer.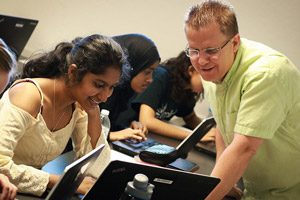 "Those are my fond memories of him," Dancho remembers of his grandfather, who had little patience for children but would allow the kids to help. "He showed me it's not just about buying something others have made, but that I could create interesting things."
Dancho is now sharing that magic of discovery with students of BASIS Chandler, a charter school outside Phoenix. The firmware engineer works for SanDisk but volunteers with four others in a computer science classroom. The course is part of TEALS, a grassroots effort supported by Microsoft Philanthropies to equip teachers to forge sustainable computer science programs in schools that otherwise wouldn't be able to offer the class on their own.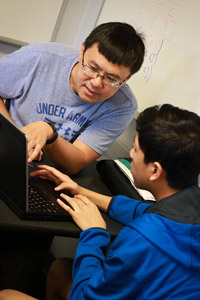 This class epitomizes the essence of TEALS: Volunteers from a wide variety of tech companies not only volunteer in the classroom but also train the school teacher. That way, in a few years that instructor will be expert enough to lead the class without relying on outside help.
The unique approach of TEALS creates a ripple effect of bringing computer science education to 6,400 students nationwide in 2015-2016 alone.
Ritika Gupta, 16, had tried coding on her own but gave up because she didn't understand and had no one to guide her through the complicated details. But this introductory computer science course gave her the tools to succeed – and the space to develop her curiosity.
"This is not a class where you do it this way, follow the rules. That gets boring," says the junior, who volunteers at her school's Red Cross Club and dances Bollywood. "It's more like a process rather than 'memorize everything.' It allows for different kinds of juices to flow."
"A lot of times, teaching students and seeing them work is one of the biggest joys I get out of the day. I see an opportunity to impact not just the school next to you but schools all over the place – to help improve computer science education and make it better."
– Mark Dancho, firmware engineer at SanDisk
That curiosity rubs off on volunteers, too. "It's really amazing to see how the students use the knowledge they learned and come up with new ideas," says volunteer Zhijian Hua, a firmware design engineer at Intel Mobile Communications. "It was truly an eye-opening and thrilling experience for me!" He had never taught before, but the TEALS training prepared him to jump in and influence students who might not have access to computer science education without TEALS.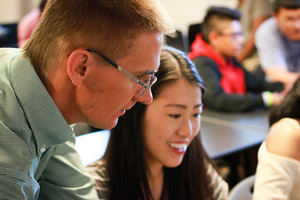 Kristy Taing, 16, was one of those students. She first thought computer science would be boring – but was pleasantly surprised. "I like the problem solving aspect of it," says the junior. "Every project is like a puzzle. It makes it more of a game than actual work."
That fun has some students excited about computer science in spite of themselves. BASIS Chandler teacher Joe Bostaph, who primarily taught math until the TEALS class began, remembers a few teens who admitted they'd been converted. "One student said, 'Mr. B., I wanted to not like the class, but I can't hate it. I get excited every day in coming to class,'" Bostaph remembers.
He adds that part of the turnaround comes from having professionals in the classroom who can drive home the relevance of understanding, using and creating technology.
"Partnering with computer science experts is awesome because they live it, breathe it, love it and have a passion for it, and they bring diversity to the classroom," Bostaph says.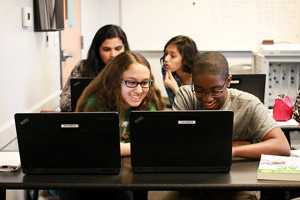 The TEALS volunteers come from different tech companies – competitors, even. But no rivalry clouds the experience; they are simply professionals coming together to help children.
"A lot of times, teaching students and seeing them work is one of the biggest joys I get out of the day," Dancho says. What's more, giving back in a way that's meaningful to them holds the potential to help many more people beyond the students in Bostaph's class.
"I see an opportunity to impact not just the school next to you but schools all over the place – to help improve computer science education and make it better," Dancho says. "The TEALS program is designed so schools need volunteers less as they get more confident. In the long term, I want to help expand TEALS, touch more lives of youngsters and help expand their opportunities in the world."
"Every single thing will potentially become computerized, and you deal with computers in day to day life – it's part of life now. How do I make sure students in my community and home are motivated and trained enough to tackle challenges? What TEALS is doing and my small part in it is part of the solution."
– Atul Hatalkar, principal engineer, Internet of things, Intel