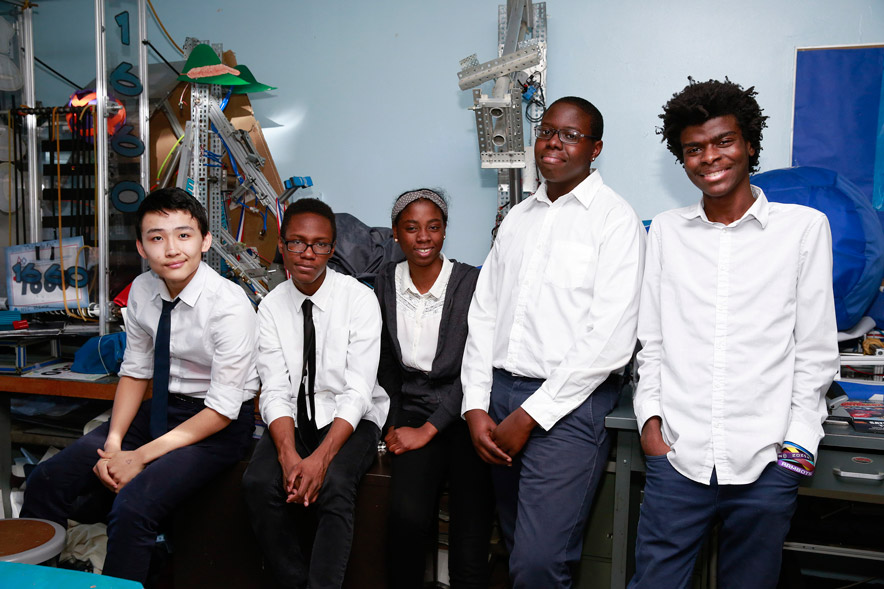 One Saturday, Minh Nguyen was waiting for the subway to head home. He looked up and noticed a student in his AP computer science class, who was standing with a friend. He said hi and, to his surprise, the two chatted for the next several stops.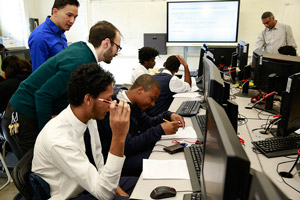 As the train sped along, Nguyen and the high schooler talked about the class. She explained how much she liked it, enjoyed computer science – and wanted to go to MIT.
"Good for you!" the New York City-based senior software engineer told her. "I really want you to do that."
Women and minorities, like Nguyen's student, are underrepresented in STEM majors and careers in the U.S. What's more, the number of computer science jobs far outpace the number of young people qualified to fill those openings – partly because computer science is taught in only one quarter of high schools nationwide.
Enter TEALS, the grassroots, industry-wide movement that pairs tech professionals with teachers to establish sustainable computer science programs. TEALS recruited Nguyen and other volunteers to bring CS education to Frederick Douglass Academy in Harlem. They instruct students in the AP curriculum, giving them the chance to take the spring exam and earn college credit. They are training a Frederick Douglass teacher so he can lead the class on his own without ongoing volunteer support. And they offer life-changing opportunities to the students who take the class.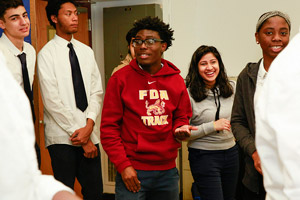 "I like trying things probably other people wouldn't try," says Jatara Clark, a senior in the TEALS class. She had tried programming with after-school clubs but this was her first try in a computer science class. She has enjoyed coding so much she plans to major in computer science – along with culinary arts.
It's an unusual combination, though she acknowledges tech skills would help her run her own bakery – or even put a unique spin on sweets. "I could make an invention to help me bake cupcakes, or frost them really quickly or even put edible lights on my cakes – why not? I feel like being different is a good thing."
Computer-powered pastries aside, Jatara sees a wider ripple effect from the TEALS class. When she and classmates are working on projects or walking down the halls, peers approach them and ask questions about computer science. She steers them toward taking the class next year – "You gotta do a lot of work, but you'll get through it," she tells them.
"I hope I'm the best student in the class! With the help I'm getting from volunteers and the support from TEALS, I'm confident about leading kids through the material."
– Joel Bianchi, classroom teacher
The TEALS model is building toward a critical mass of tech-educated youth. "If you just go into a classroom and teach, you only help students in that class," Nguyen says. "But when you plant your seeds here and then go to next school and the next school, each school grows a teacher who can teach CS there, and then they'll inspire teachers too. That's what we're doing with TEALS."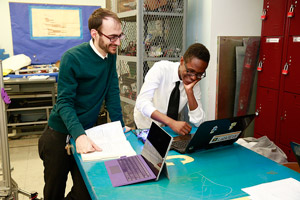 Joel Bianchi, the Frederick Douglass teacher, is proof of that. "I absolutely would not have taught AP computer science without TEALS," says Bianchi, a trained engineer who also teaches robotics. He had wanted to delve deeper into computer science to offer students yet another STEM opportunity but didn't have the resources or time to retrain. "TEALS is like someone standing in front of me saying, 'You wanted to do this, here's the opportunity. Let's grab it.'"
The TEALS co-teaching model allows him to learn from the professionals who volunteer in his classroom. "I hope I'm the best student in the class," Bianchi laughs. "With the help I'm getting from volunteers and the support from TEALS, I'm confident about leading kids through the material."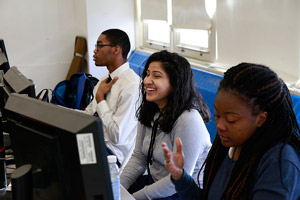 Most students don't realize he isn't already a computer science expert, Bianchi says. The structure of TEALS allows for seamless team-teaching, so Bianchi simply asks a volunteer to demonstrate or explain a concept he's still learning.
Bianchi will continue to teach computer science next year – and for the foreseeable future. Thanks to TEALS, years of students down the road will have access to computer science – and the opportunities it creates.
"This high-level computer science class opens up a world to students they never knew existed," Bianchi says. "TEALS is giving them the confidence that they can do this. They're already in the STEM world, and now they feel like they belong here."
"This high-level computer science class opens up a world to students they never knew existed," Bianchi says. "TEALS is giving them the confidence that they can do this. They're already in the STEM world, and now they feel like they belong here."
– Joel Bianchi, classroom teacher