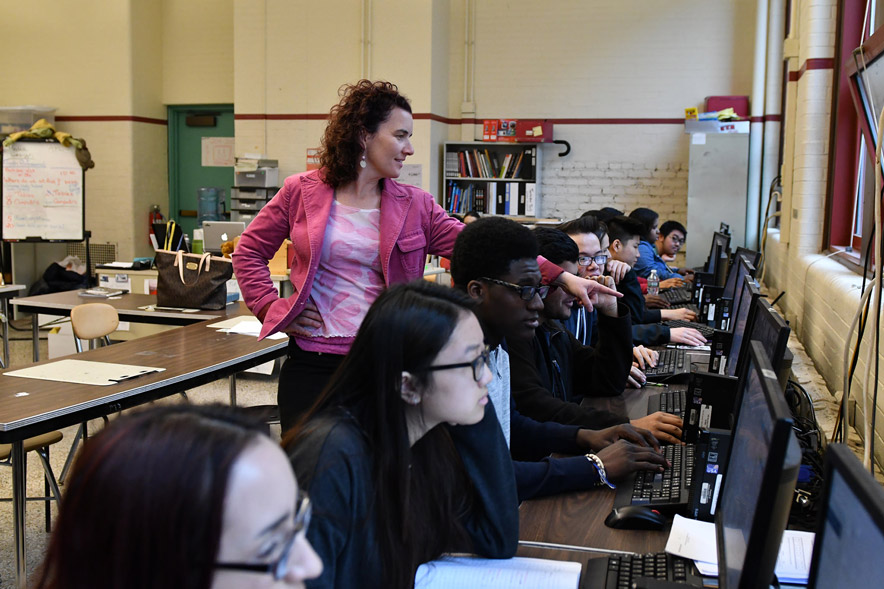 Leonardo Souza has seen firsthand how computer science education changes lives. His own trajectory switched from factory work to software engineering when he got into a technical high school outside his native São Paolo. Then when his brother was stuck in a job he dreaded, Souza taught him computer science from afar; the brother now works in the tech field. And Souza volunteered his time teaching computer science to high schoolers on and off for a few years, but when he left, that was the end of the program: There was no one to take his place.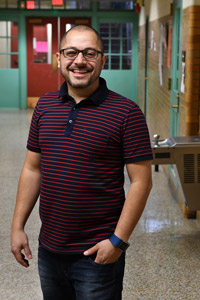 Then he remembered reading a newsletter article about TEALS, the program supported by Microsoft Philanthropies that establishes computer science programs in high schools across the country. The structure of TEALS – team teaching with industry professionals and teachers new to computer science, then gradually phasing out volunteers as the school becomes self-sufficient – appealed to Souza's goal to spread tech education.
He now volunteers in an AP computer science class at Boston Latin Academy, a public school of students of diverse socioeconomic and ethnic backgrounds.
"It's not just me teaching computer science; I'm also helping a teacher learn to teach computer science so they can be self-sufficient," says Souza, a senior software engineer at Firecracker, a company that makes a studying app for medical students. "I know someone else can continue the work even after I'm gone, and it's scalable. It's basically perfect."
Souza and three other professionals come from diverse backgrounds and different tech companies in an industry-wide, grassroots effort to develop computer science education. They support Ingrid Roche, a former English as a foreign language teacher. She has been gaining expertise in computer science even as she helps the volunteers hone their teaching skills.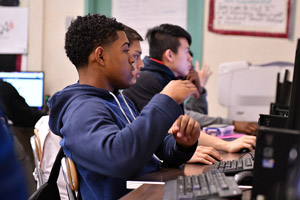 "Some of our students wouldn't have had the opportunity to engage in computer science classes, summer camps or other opportunities," Roche says. "So I felt and feel students at our high school – and any high school – deserve to find out what is computer science, do they want to study it and what opportunities can they get out of computer science." Nearly all the 29 seniors had never coded before the TEALS class, but they now thrive even when faced with tough assignments. The TEALS structure ensures that students have every opportunity to master concepts, thanks to all the individual attention – a rarity in public schools these days.
"I'm only one person. But having five people really invested and excited in a project makes it a very positive experience for the kids," she says. The students become comfortable working with assistants other than the main teacher and acting professionally – practice that will help them in college, too.
"Computer science is not something you're born with; you learn. If you dedicate the time, put in the practice and have someone to teach you, you can learn it. I want to be a part of something that gives more people exposure to it."
– Leonardo Souza, senior software engineer, Firecracker
Take Tyla Smart, a senior who plans to major in computer science when she enters university in the fall. "It definitely helps when problems arise in class because one teacher might have more expertise in a certain abstract area than the other teachers, so the help we receive is very well guided," she says. Tyla dreams of starting her own software company someday; in the meantime, she volunteers at a community tech center, helping children and adults build web sites or use a 3D printer.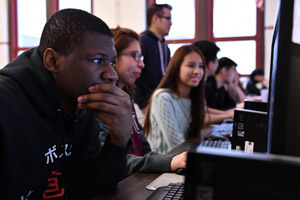 The benefits of TEALS doesn't stop with students in this Boston class. Volunteers like Souza are helping develop computer science programs in underserved high schools across the country. Their impact multiplies as the instructors they team-teach with become experts in their own right, freeing up volunteers to move on to another school to start the cycle all over again. And as Microsoft funnels more resources into TEALS, the computer science education program will empower a critical mass of teachers and students.
"Without TEALS, many high school students wouldn't have a computer science teacher," says Souza, who believes CS is an educational "building block" as vital to young people's success as math and writing. "We'd miss all those kids who would never realize, hey, computer science is something I would enjoy and have fun with – and something that has a lot of jobs that pay well."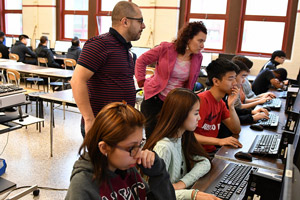 Souza, whose 12-year-old daughter participates in computer science camps, wants to demystify the tech field and prove that anyone can code. "Computer science is not something you're born with; you learn. If you dedicate the time, put in the practice and have someone to teach you, you can learn it," he says. "I want to be a part of something that gives more people exposure to it."
He has seen what a little exposure can do. Students who struggled, who didn't see themselves as "computer science people," who questioned whether they were in the right class have come a long way. As the AP test approaches, they not only hope to earn college credit. They have found something they enjoy as they code special powers for Pokemon characters and create video games out of a blank screen.
"This is why I do this!" Souza says. "More and more of the future is defined within computing. I dream that every kid can be exposed to it and, if they like it, have the opportunity to pursue it."
"It's not just me teaching computer science; I'm also helping a teacher learn to teach computer science so they can be self-sufficient. I know someone else can continue the work even after I'm gone, and it's scalable. It's basically perfect."
– Leonardo Souza, senior software engineer, Firecracker