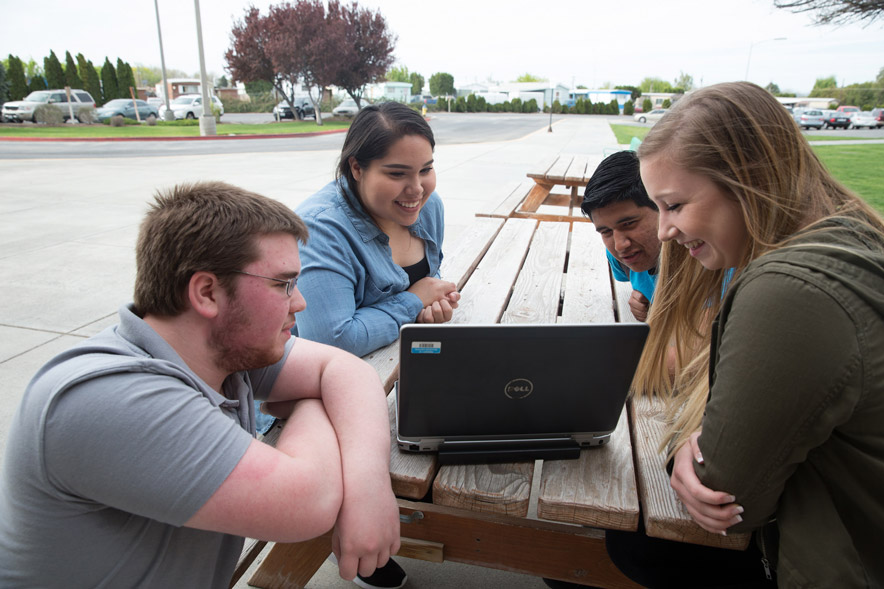 It's tough for high schoolers to get excited about anything at 8am. So Microsoft Azure program manager Silvia Doomra brought enough chocolate to go around when she met the 20 students in an introduction to computer science class she co-teaches.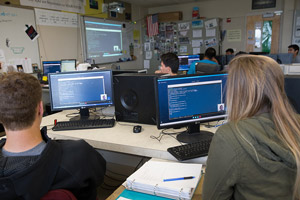 To Doomra's surprise, though, the Quincy High School teens were plenty enthusiastic even without the sugar boost. That morning was the first time they'd met her in person; they lit up to see her face-to-face instead of as the usual image projected on a screen while she video-conferenced into the class from her office at Microsoft.
Doomra is not your typical teacher. She and three other volunteers work closely with Mark Kondo, a Quincy High teacher with a background in business and marketing, to make sure these students – and all the ones to come after – are equipped to thrive in the 21st century.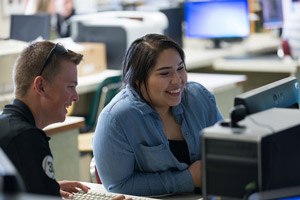 Quincy is one of 161 schools from coast to coast participating in TEALS. The industry-wide movement, supported by Microsoft Philanthropies, pairs professionals who come from more than 200 companies nationwide with teachers at schools that otherwise wouldn't be able to offer computer science classes. After a few years, teachers take over the class entirely, freeing up volunteers to help in other schools – and create even more self-sustaining computer science programs.
Like students in many rural high schools, Quincy's youth didn't get much exposure to computer science or STEM professionals. That's why TEALS is making a concerted push to funnel volunteers from across the tech industry to bring programming to rural teachers and teens.
Students at this rural Eastern Washington high school, which sits mere blocks from the fields that sustain the agricultural community, at first seemed skeptical of the computer science class. But the teens have transformed over the course of just a few months – not only in their technical skills but also their attitudes about the future.
"As long as students leave the class without fear of computers and continue to not just be consumers of tech but can also create and be in control of what they produce, that will make them better at any career. They'll be confident they're better prepared for any job."
– Juan Lema, software engineer, Microsoft Hololens
"Last semester, in my mind I was like, I don't know how to program, and I'm not going to try," remembers sophomore Hannah Gonzalez, who also plays softball and is on the cheerleading squad. "Then this semester something just clicked. Now I take notes, I study, and I make it fun.
"This summer, I'm going to miss programming." The 15-year-old paused, then laughed. "I can't believe I just said that!"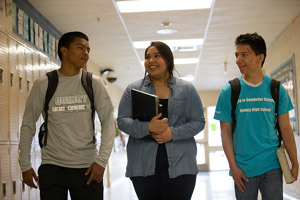 For the source of the shift, Doomra and Kondo point to a field trip to the Seattle Microsoft campus Doomra organized. The students piled into a yellow school bus for the three-hour drive. Many of them had barely left Quincy, let alone ventured into the sleek, modern buildings at a Fortune 50 company.
Doomra and Juan Lema, another remote volunteer and a software engineer at Microsoft Hololens, hosted a campus tour, then the teens then split off to shadow Microsoft employees. Some students attended high-level meetings or got a behind-the-scenes peek at developing technology.
Overall, the message was clear: Volunteers cared about these students from a small town nearly no one has heard of.
As Doomra says, "We are invested and ready to help them in their career."
TEALS volunteers are impacting the career of teacher Mark Kondo, too. The TEALS course, still in its first year at Quincy, has been revolutionary for him and the school, he says.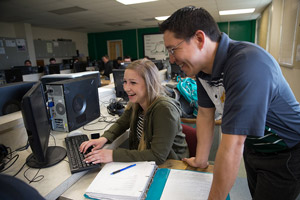 "Number one, I have the support of programmers who do a great job working with kids, and number two, they are walking us through the programs," he says. "It's an amazing package put together for a classroom teacher who's trying to learn." Between the volunteers' support and the TEALS curriculum, Kondo feels prepared – and inspired – every morning as his students eagerly practice Snap or Python.
The future-facing curriculum encourages the students to consider how the skills they're learning influence more than just the grade they earn in class. "I hadn't ever thought about what I wanted to do in the future until this year. We're just a farming town, no one pursues computer science," says Brendan Van Diest, a junior in the Quincy TEALS class. "When I made the decision to go into computer-related stuff it was because of exposure I've had through this class. I know this is something I could do for the rest of my life."
TEALS volunteers are confident that no matter what path students pursue, the seeds they've planted will bear fruit in the future.
"I'm blessed to have the opportunity to help these guys achieve their goals," Doomra says. "If I can do anything to make their life better, if they improve even one percent, I have changed the course of a life."
"Number one, I have the support of programmers who do a great job working with kids, and number two, they are walking us through the programs. [TEALS] is an amazing package put together for a classroom teacher who's trying to learn."
-Mark Kondo, TEALS computer science teacher, Quincy High School