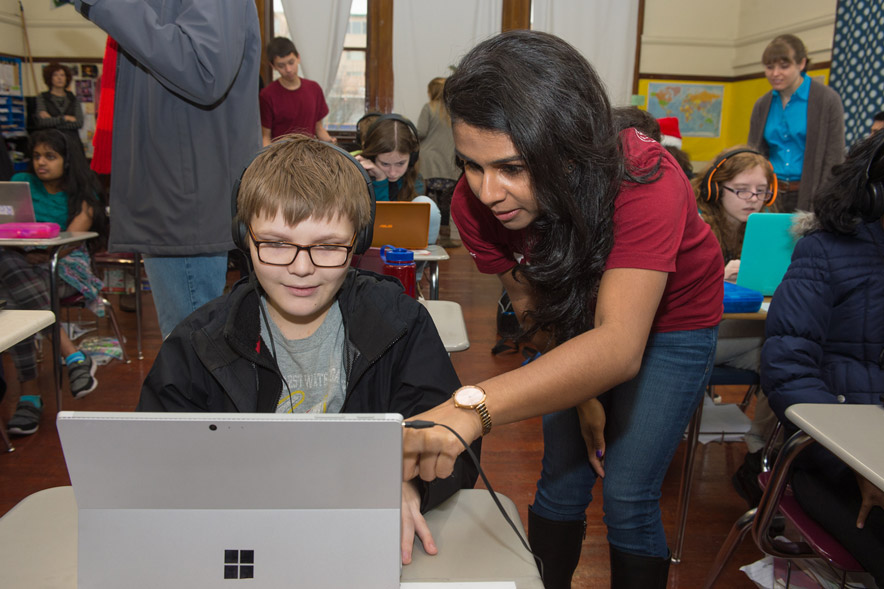 Navya Prakash
Navya Prakash teaches CS – and keeps her day job – at Seattle's Academy for Precision Learning (APL), a school with students impacted by autism or other learning disabilities. This is the first time a TEALS course has been taught in a school with students who are all impacted by autism or other learning disabilities.
Navya is a software development engineer at Amazon, where she works in the Kindle education organization. She also volunteers as a co-teacher in TEALS (Technology Education And Literacy in Schools), the grassroots computer science education program supported by Microsoft Philanthropies. TEALS relies on professionals from more than 400 different tech companies nationwide. These volunteers bring computer science to high school students who wouldn't have access to that education otherwise; they also train teachers to take over the class, freeing volunteers to bring the program to even more schools. By building sustainable computer science education programs from coast to coast, TEALS reaches more than 10,000 students each year.
---
One of many good things about the software industry is that there are so few developers and so many developing jobs, you have the opportunity to choose a job that's fulfilling to you. You don't have to settle but can find something where you feel like you're making a difference in an area you care about. That's what I'm doing in Amazon's education organization, where I work to make Kindle textbooks more accessible to teachers and students.
I didn't want to stop there, though; I wanted to contribute more to the area of technology and education. So, when I moved back to Seattle after college and my high school computer science teacher told me about TEALS, I decided to apply. I've been teaching in a TEALS computer science classroom since this fall, and I feel incredible about the difference my fellow volunteers, our classroom teacher and I have made so far.
Opportunities in computer science are even more powerful for the students I teach, who are impacted by autism. Learning about careers in programming, and meeting actual professionals like me and my fellow TEALS volunteers, shows them that they don't have to be held back by their disability. If you can demonstrate your skills in coding, you don't need to be able to do presentations or public speaking.
The thing that most surprised me about TEALS was that it gave me a way to create a huge impact in students' lives without sacrificing anything in my own career. Sure, I teach several hours a week and committed time to being trained in the curriculum, but I can still pursue my goals at work.
Volunteering in a TEALS classroom also reteaches me what I love about computer science. After all, we developers sometimes get so bogged down by getting things done and delivering a product that we forget what drew us here in the first place.
Explaining programming concepts to high schoolers reminds me how you piece together solutions for huge problems bit by bit. Seeing my students discover the same satisfaction from logic and problem-solving that I get from programming is amazing—I couldn't have asked for a more rewarding experience.
Not all of my students will end up as software engineers, and that's ok—that's not the point of TEALS. But giving them this opportunity to learn programming early helps them figure out if they do want to pursue computer science. What's more, when they encounter software programs elsewhere, whether that's in law or fashion design, they won't feel intimidated or need to rely on someone else to understand.
The biggest barrier for others volunteering with TEALS is simply not knowing about this life-changing program. But we need more people to jump in. We in the software industry have a responsibility to ensure the next generation of young people is prepared to contribute to computer science—the field we all love. That's what I'm doing every week when I work with my amazing students. I see the difference I'm making for the future—and for these hard-working, inspiring teens.