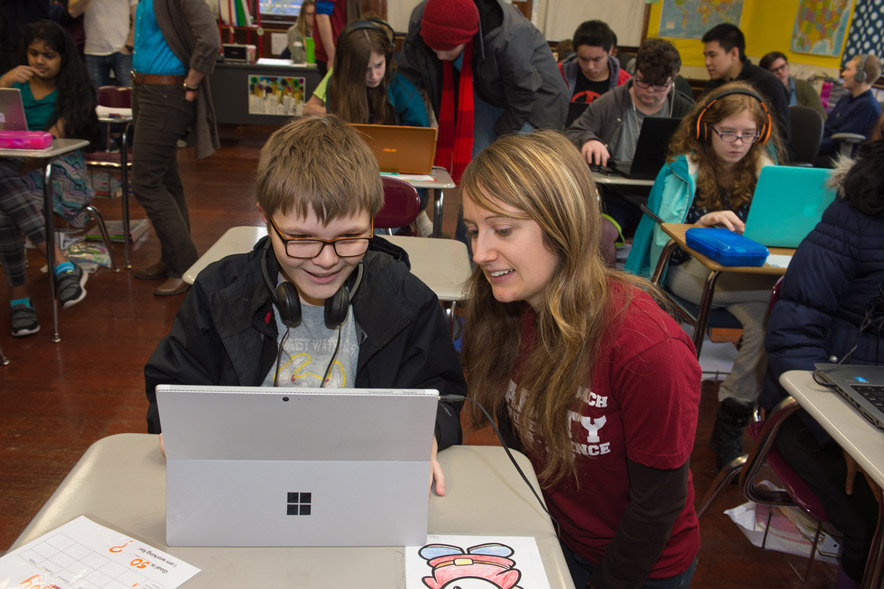 A recent morning in Seattle began with rain—typical—but something much more unusual was happening in a school in Seattle's University District. High schoolers leaned over the desks of middle school students, offering suggestions and encouragement as their younger peers blasted zombies and guided R2-D2 around obstacles. Rather than just playing video games, though, the teens were controlling the characters by writing instructions for them to follow.
"What I like about coding is it's about creating something, whatever you want," says Piper Colquitt, a student in the 7-8th grade class at the Academy for Precision Learning (APL), an inclusive school geared toward teaching students impacted by autism. "It's your world so you can create it however you want. People don't tell you what you can or can't do."
For Piper and her classmates who all have learning disabilities, bumping up against adults' (and society's) expectations can be a daily frustration. The difficulty translates into discouraging statistics: In the two years after high school, two-thirds of young people on the autism spectrum are unemployed and have no educational plans, according to a 2015 study. But many of these Seattle students have discovered that computer science is a natural complement to their skills and enthusiasm thanks to TEALS, the grassroots Microsoft Philanthropies-supported initiative that brings computer science (CS) education to schools nationwide. In their daily TEALS class, APL students are finding that creativity through technology offers freedom, fun and opportunities for a successful future.
Teens try out computer science
Piper and the other students in her class were led through coding tutorials by high schoolers and volunteer teachers from the school's TEALS class. TEALS seeds CS programs in schools by matching technology professionals from over 400 companies with high school teachers. Over the course of a few years, volunteers not only instruct students on rigorous CS curricula and share insights about their own careers, but also train teachers to take over the class—thereby creating sustainable computer science programs for the school to continue independently.
The high schoolers were eager to show off the CS skills they'd learned in their TEALS class at APL, the first school of its kind to incorporate the program. They roamed the class, offering advice when the middle schoolers seemed stuck and appreciation when the succeeded. ("Woah, how'd you do that fire?" one student marveled.)
"My students absolutely loved the chance to go to the middle school classes and share the skills they have," says Navya Prakash, a software development engineer at Amazon and a volunteer in the APL TEALS class. By pairing technology professionals like Prakash with a teacher, TEALS introduces students to adults working in the computer science field—many of whom end up being role models of what they, too, can achieve. "Putting students in a mentor role helped bring some of them out of their shell and even inspired them to continue on the computer science track."
Students with autism discover CS career path
The morning that combined the TEALS and middle school classes was part of Hour of Code, a nationwide effort that introduces students to computer science. In addition to learning about programming from their peers, students came face to face with someone who proves a computer science career might be a possibility for them—autism and all. Katherine Hart, an engineer who joined Microsoft through a program that hires professionals on the autism spectrum, told the teens how she now works for one of the world's leading technology companies. She got there not in spite of, but partly because of, her diagnosis.
"Helping teach kids with my disability enables me to give more toward kids who are not as fortunate as I was," explains Hart, who first learned programming at 25 through online classes. "Today is a really good opportunity for them to start coding. The ability to code has become as much a necessity as reading, writing and typing."
Roughly 80 percent of adults impacted by autism are unemployed, and Hart knows firsthand that computer science skills can offer unique opportunities. While she was between jobs, she took programming classes to develop her own skills—and pursue a passion she found in her 20s. "I really like being an inspiration," Hart adds. "I didn't have anyone like that to look up to."
CS offers freedom, room to play
Prakash, the volunteer from Amazon, believes that many of the students in her high school computer science class wouldn't have had the opportunity to dive into programming without the TEALS class. As she watches them thrive, reveling in their "aha!" moments when a coding concept clicks, she sees their "disability" as offering a unique advantage in the CS field.
"The students can get lost in this other world where nobody is asking them to display abilities they don't have, and they rely on abilities they do have like logic and rational thinking," she says. "With autism, reading emotions and dealing with subtlety may not come as easily to them as some other students. But the computer only knows logic. They identify with that."
Back in the APL classroom, high schooler Ia Pixley helped another student try his hand at programming. Ia, who also plays the ukulele and wants to code a computer role-playing game someday, was surprised by how much she enjoyed teaching. For those who understand computer science, it's no surprise: after all, computer science marks the spot where opportunity and fun intersect.
"It's basically a sand box," Ia said. "You can do anything."
---
To learn more about volunteering through TEALS, visit: https://www.tealsk12.org/volunteers/