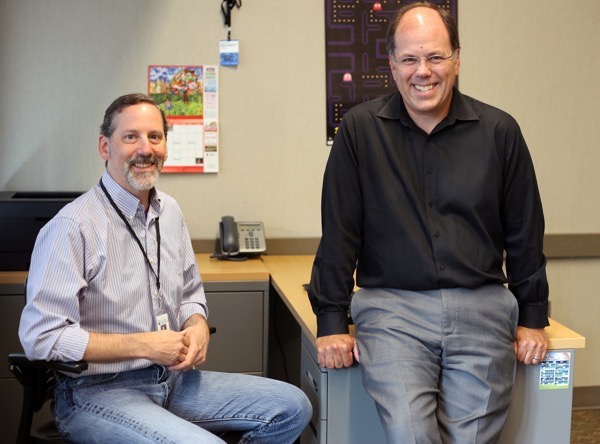 Ralph Case
Ralph Case, a project manager at DELL and long-term volunteer with TEALS (Technology Education and Literacy in Schools), has helped teach dozens of students and three new computer science teachers in Washington State high schools over the past three years. TEALS relies on industry volunteers from more than 400 companies to co-teach CS with classroom educators across the country. Ralph has witnessed how volunteering can change the trajectory of young people's lives and open up an entire world of opportunity. 
---
When my son was a senior in high school, he took a computer science class and struggled. He had worked with computers before, but CS was different, and not what he expected. He and I would spend time together going over the material, and as we walked step by step through the concepts, I could see my son gaining a better understanding of computer science.
He told me, "Dad, you're really good at explaining this. You should volunteer and help other students, too." I had thought about how I could help more young people be introduced to computer science, a subject that's just as (if not more) important than other core topics like biology or music or French because it opens doors for young people—regardless of whether or not they pursue CS as a career.
Yet it's difficult to fill computer science teaching jobs with people who are truly knowledgeable about CS, and less than half of all high schools in the U.S. offer computer science classes, so I knew I could contribute.
The fall after my son encouraged me, I began volunteering in an AP Computer Science classroom through TEALS. The time and energy I've invested in classrooms over the last three years has helped fill the CS teaching gap. I continue to be inspired by the young people and teachers I have helped teach.
One day, I bumped into an ex-student of mine at the store, and he told me he was pursuing computer science in college. He said that I had a big impact on him—that my encouragement had helped him decide what to do with his life.
That moment is a highlight of my time volunteering with TEALS. The student had struggled in class and didn't have the same background and advantages others enjoyed, but he worked hard. Sometimes he'd get discouraged in class, but I was proud he found it in himself to persevere. Those that are least likely to have access to computer science are young people of color, girls, and those from disadvantaged economic backgrounds, so I was especially proud that this young man discovered a passion through TEALS and gained the confidence to follow it.
Being a professional in the classroom also allowed me to show him and my other students the real-world applications of what they learned in the course—and that it's completely normal to struggle. I can tell them that I know professionals who have worked in CS for decades who also have a hard time with a given concept or problem. I tell students, "You're struggling not because you're dumb but because this is hard." Yes, it's hard—but it's worthwhile.
The same can be said of volunteering with TEALS. It's a big commitment, but I've found not only personal rewards but professional ones as well. I think of myself as a teacher at work now, too. As a manager, I structure the work on my team to maximize learning so we all grow and bring more to the organization.
After I started volunteering to teach computer science with TEALS, I had a conversation with my son, who's now in college. I thanked him for giving me the kick I needed to lend my expertise in a CS class. Because of his encouragement, I have helped dozens of students directly, not to mention the many young people who will attend classes of the teachers I helped train, too.
When you're in the classroom, teaching both students and the classroom teacher, you're giving opportunities, insight, perspective, motivation and skills they wouldn't get if volunteers weren't there. We computer professionals have the power to make students' education and lives better. With TEALS, I can make that happen.