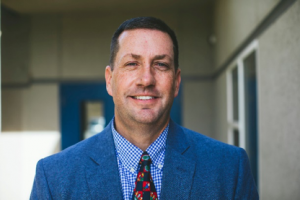 Matt Charlton is superintendent of Manson School District in rural Washington State. With his support, Manson High School introduced computer science (CS) education for the first time with TEALS (Technology Education and Literacy in Schools), the Microsoft Philanthropies-supported initiative to ensure CS is taught in every high school in the U.S. TEALS matches teachers new to CS with industry volunteers, who support teachers and help instruct students either in-person or remotely. By training the teacher, TEALS creates sustainable CS programs across the country.
At Manson High School—and any high school—our job is to not only think about what happens within the walls of our building; as educators, we need to prepare students for life after graduation. And we want to expand students' ideas of what's possible for them and their families.
You see, Manson is a community of roughly 1,500 people in north-central Washington, and most of our families work in agriculture. Many of my students' parents didn't graduate high school, and students sometimes finished school without a clear idea of what was next. They ended up working in our community's apple orchards or vineyards by default, not because that's what they were passionate about.
So we doubled down on our philosophy to help kids not only learn in school, but to try out skills and trades, to experiment in a supportive environment, and to discover their passions. Computer science has been an enormous part of that push.
Five years ago we realized that jobs requiring computer science knowledge were booming, and at the same time, we learned about TEALS. It was an ideal fit for a rural community like Manson.
Expanding curriculum is difficult in a small school in a small district like ours, and finding qualified teachers in STEM is especially challenging. But with TEALS, we didn't need a teacher to already be an expert. Our teacher—who had never tried computer science before—learned alongside students. Professionals from tech companies volunteered by videoconferencing in every day, allowing our teacher to become comfortable with a new subject without feeling pressured to know everything.
What's more, the TEALS model introduces students not only to a new topic but also role models. In our little town, kids probably haven't met many software engineers or data scientists, and TEALS volunteers show them careers they wouldn't have considered otherwise. It means the world to our young people to know successful experts in the tech industry believe in them.
We saw success with TEALS from the get-go, but only 10 or 15 percent of our student body was taking the class. We realized that computer science is a fundamental skill every young person needs to grow to their full potential, so this year we made computer science a required class for every freshman. Our computer science teacher has become so comfortable with and excited about CS that we're planning to offer AP CS next year for the first time.
Even if you and your teachers are starting from scratch, the support you receive from TEALS makes introducing computer science education doable for every school. If you want to give your students all the opportunities they deserve—regardless of where in the country they live—computer science is critical.
The students at Manson are motivated and dream of being successful not only for themselves but for their families as well. When they consider their future now, they're doing so with thousands more opportunities that their parents never had, thanks to our TEALS CS classes. I am so proud to be a part of that.
To learn how you can bring computer science to your school, visit our Schools page.