Preparing the world's future innovators
Science and technology are critical drivers of today's global innovation economy. More and more companies–across all industry sectors–are seeking people with computer science (CS) and computer engineering skills.
In the U.S., there will be 1.4 million CS-related jobs by 2020, yet U.S. college graduates are expected to fill less than a third of those jobs. For American youth, this means an unfortunate mismatch between education and opportunity that we must solve by bringing together professionals from across the CS industry.
By increasing access to CS for all youth as early as possible, we will help them prepare for the jobs of today and tomorrow and give them the opportunity to become creators of technology and the world's future innovators.

Partnering with teachers and schools
TEALS helps high schools build and grow sustainable computer science programs through partnerships between classroom teachers and tech industry volunteers. They work as a team to deliver CS education to students who would otherwise not have the opportunity to learn CS in their school.
Over two years, the classroom teacher gradually takes over the responsibilities of teaching the course without volunteer support. The team-teaching and volunteer system of TEALS creates a strong ripple effect: it empowers teachers who can multiply the impact by providing computer science education to hundreds more students over the years.
TEALS was founded in 2009 by former high school CS teacher and software engineer Kevin Wang and is a Microsoft Philanthropies program.

What we do in the classroom
TEALS has two standard high school course offerings:
Introduction to Computer Science
AP Computer Science A
Introduction to Computer Science – is a one-semester class based on The Beauty and Joy of Computing at UC Berkeley. This is a broad-based intro class that uses the Snap! visual programming language to introduce students to computational thinking.
Intro to CS can be offered as a semester-long course offered twice in a single school year or as a year-long course with an expanded curriculum. The year-long class transitions to text-based programming using the beginner-friendly Python language in the second semester.
AP Computer Science A – is the equivalent to a first-semester, college-level course in computer science for CS majors. The course introduces students to computer science using the industry-standard Java programming language and presents fundamental topics that include problem solving. We use a curriculum based on University of Washington's CSE 142 course and students are expected to take the AP exam in May.
TEALS also offers support for additional courses with limited availability:
AP Computer Science Principles
Advanced Topics and Projects in Computer Science
AP Computer Science Principles – is an AP level computer science course that launched in the Fall of 2016. The course complements the existing AP Computer Science A course, with a focus on the fundamentals of computing, including problem-solving, large-scale data, the Internet, and cyber security.
Advanced Topics and Projects in Computer Science – is an advanced offering for schools with a significant population of students that have completed the AP Computer Science A course and wish to continue their computer science education. The course resembles an "independent study" where volunteers provide mentoring and technical guidance.
The TEALS Models
TEALS works with a variety of schools (rural, urban, suburban) and teachers across the nation, TEALS offers multiple levels of engagement based on each school's requirements:
Co-Teaching Model
Lab Support Model
Classroom Enrichment Model
Co-Teaching Model – Our standard engagement model: a team of 2-4 volunteers partners with a classroom teacher to deliver Intro or AP Computer Science in the classroom. A typical class features 15 minutes of lecture and discussion, and 35 minutes of activities and lab work.
Lab Support Model – In the Lab Support Model, 1-2 volunteers provide support as lab TAs, working 1-on-1 with students and assisting the teacher with class preparation and grading, but not taking responsibility for planning and delivering lessons.
Classroom Enrichment Model – In the Classroom Enrichment Model, TEALS may provide a volunteer to assist a classroom teacher in person, via phone, or via online consultation. This volunteer responsibilities range from assisting with labs and assignments  to consulting visits with the teacher or in class guest lectures on occasion, as defined by the classroom teacher and subject to volunteer availability. In addition, the school and teacher are encouraged to participate in the TEALS community through meet-ups, events, and our online community forum.
Remote Instruction
33% of US public schools are in rural areas, where there are no software engineers to provide TEALS support. We use teleconferencing software to bring volunteers to these underserved schools. For example, volunteers in New York City and Seattle have participated in classrooms in rural Kentucky and Lower Yukon, Alaska.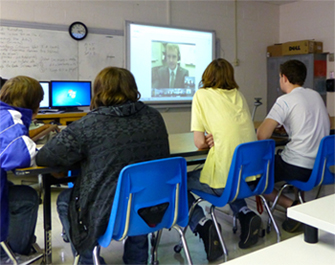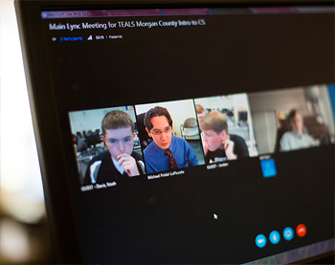 2018-2019 School Partnerships