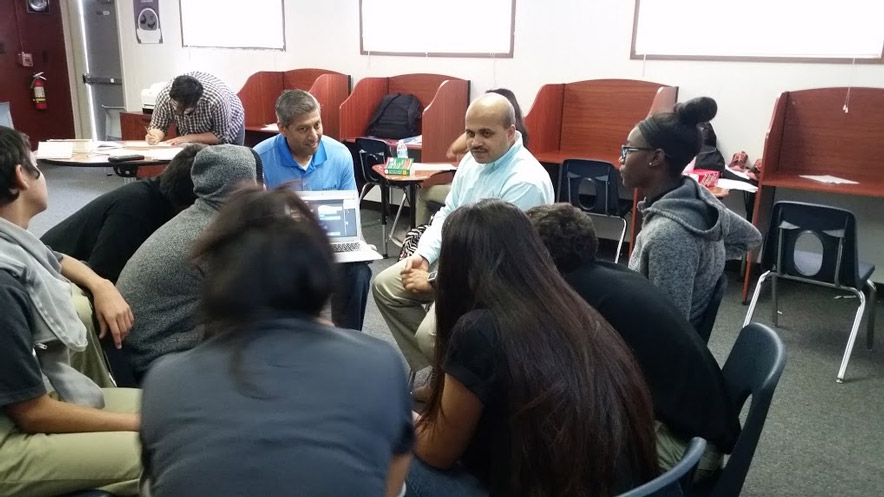 Rohan Pal
Rohan Pal is CIO and CTO of Recall, an information management company based in Atlanta. It had been years since Pal wrote programs himself, but the training and curriculum provided by TEALS has more than prepared him to teach an introduction to computer science class. TEALS, the industry-wide grassroots program supported by Microsoft Philanthropies, matches volunteers from hundreds of tech companies with schools that don't have computer science programs. The professionals help in the class (or, like Pal, via videoconference) as well as equip school teachers to teach computer science on their own.
Pal and another volunteer, Ashwin Ghanate, team-teach with a teacher at Austin Achieve, a tuition-free public charter school. Nearly all students in this Texas school live near or under the poverty line; Pal explains here how teaching them computer science offers life-altering opportunities. Learn more about how to volunteer with TEALS here.
---
I am the proud father of two teenaged boys. I remember being so frustrated for both of them going through school because they didn't know how to code, and there were no opportunities in school to learn computer science. I even looked around at college campuses to see if there were after school programs to send them to, but nothing out there fit. I ended up teaching them myself and being that hated dad who forced his kids to learn Python over the summer!
But not everyone can do that. That's why when I happened to read a news article about TEALS, I was looking for something I could give, where I could be passionate about it every day, where I could feel like I was having an impact. That is what TEALS is for me.
I called a TEALS representative and although they didn't have a school for me in Georgia, he offered me a special opportunity to team-teach remotely in an underprivileged school in Austin. Not only did I sign up; I recruited members of my team, including Ashwin, to volunteer with me.
I'm trying to make IT at Recall not just about work but about finding a renewed purpose. What better way to do that than unite as a team to do something charitable? It has been a transformative experience for us.
Teaching remotely has been both interesting and challenging. The students on the other side see us as the talking heads who pop up on their screens. But we can still do everything: We help them work on labs, show our screens to teach them computer science concepts, answer questions and support them creating self-directed projects.
For example, one assignment was to program a platform game. I was blown away by what they turned in. One kid had built a game like Mario Bros., but his characters were Hillary Clinton and Donald Trump!
Our students are beginning to interject real life in their programs. That shows me we're making a real connection wit these kids. I look at the creativity computer science is sparking in them: They now feel like they can create something out of nothing, that they can literally bring their ideas to life on a computer screen. That's what creates a love of computer science.
At any IT conference I'm in, I talk about TEALS. I invite other companies' CIOs and CTOs to watch our class or take them out to lunch so they may volunteer, too. They see how excited I am about TEALS and they get excited, too!
We are all hungry for this: a way to contribute in a powerful way. I'm helping young people have fun, learn something that will propel them through college and get them into the workforce. And that is having an impact across generations.
Many of the students in our class have parents who don't earn much. When I told our class how much computer scientists can make right out of college, they were shocked. One student blurted out, "I could support my entire family on that!"
That's why I love teaching computer science with TEALS. I'm giving students a way of life that will not only help them but their parents and grandparents today, then generations of children and grandchildren after them. We are transforming lives forever.