T-Shirt orders must meet the following guidelines to ensure no delays occur:
As a Classroom Enrichment classroom, TEALS does not provide you with free T-shirts; however, TEALS has arranged it so that you can order your own custom T-shirts at the TEALS reduced pricing. Please follow the below instructions on how to submit and pay for your custom T-Shirts, if you so desire.
IMPORTANT: Prices will vary depending on your exact design and order quantity. By using a 1-color design you will be provided the TEALS discounted rate. Cost will vary between $8 – $10 per shirt which is dependent on the quantity ordered. You are required to call UberPrints to place your order as outlined in Step 4 below. *Orders placed for Georgia schools will be assessed a sales tax.
Your transaction is between you and UberPrints – TEALS is not involved in this process.
STEP 1: CREATE AN ACCOUNT at https://www.uberprints.com/
STEP 2: DESIGN YOUR T-SHIRT using the following template:
https://www.uberprints.com/studio?tid=11010
*NOTE FOR LADY SIZES
Lady sizes are fitted. We ordering a size larger than you think.
Additionally, if any ladies sizes are chosen, the colors are further limited and do not include:
Ginger
Heather Royal
Heather Denim
Heather Charcoal
So if you are ordering a combination of Unisex and Ladies T-Shirts, you must choose a color that is allowed for Ladies.
* FRONT:
Designs are limited to ONE COLOR.

Designs are printed on the FRONT only.  They will not be printed on the back
Add text and image using the design tool
You MUST include your full School Name, and Class name. Mascot is optional.
(Example: LaSalle High School, Jaguars, Intro to Computer Science or AP Computer Science. Please do not abbreviate to 'CS')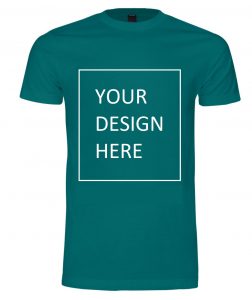 * BACK (default text):
Additional text/images will not be printed on the back
The back of all shirts will include the TEALS logo. You can change the color of the white print, but nothing else.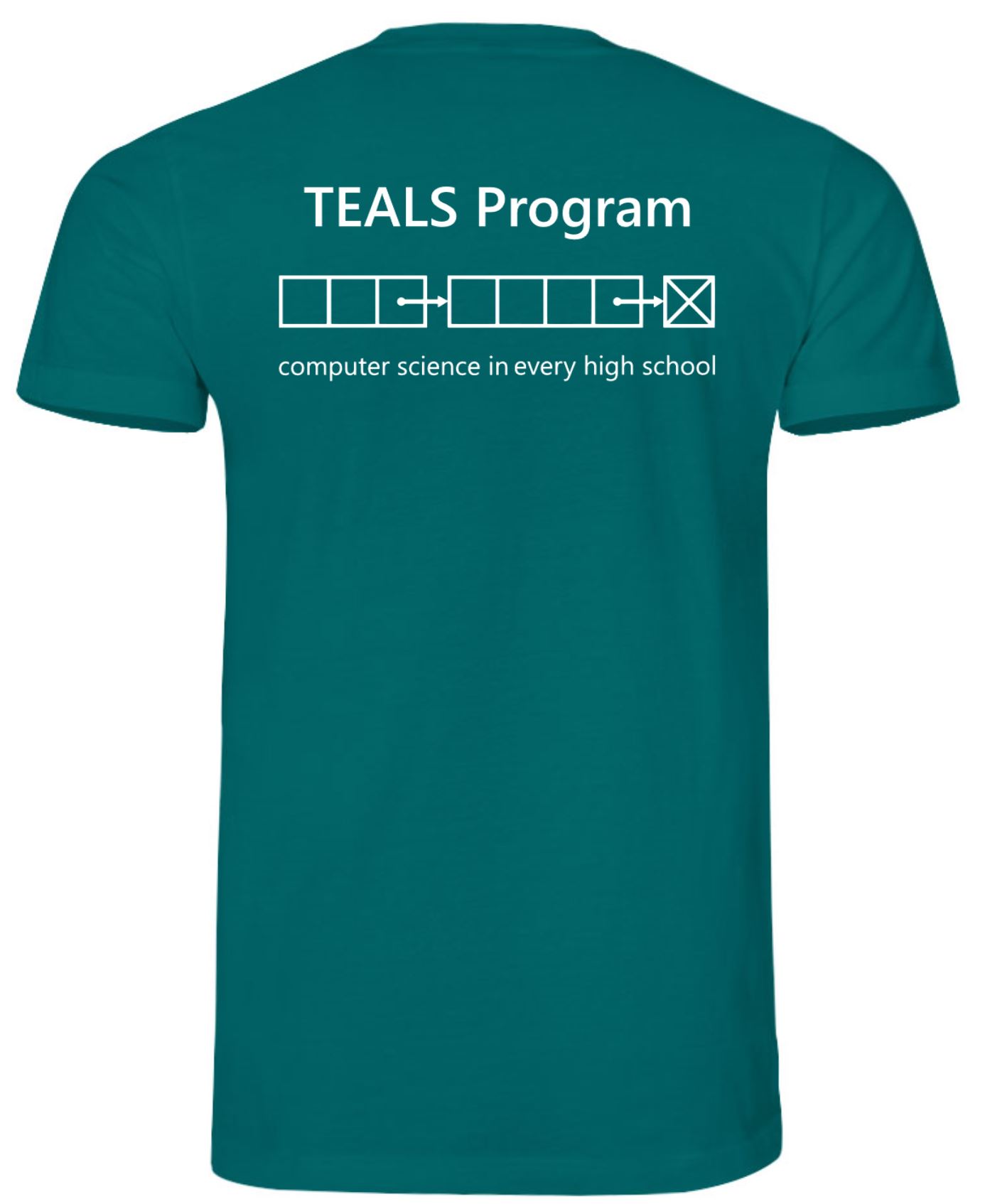 * SLEEVE:
There must be no changes to the right-hand sleeve that includes the MICROSOFT PHILANTHROPIES logo as Microsoft Philanthropies is the primary sponsor of the TEALS program.
The color of this logo will match the chosen design color on the front of the T-Shirt.
STEP 3: SAVE DESIGN
* Once your design is completed, use the SAVE/LOAD tab to SAVE the design
* NAME and SAVE your design using the following template:
SCHOOL_CLASSTYPE_FULL/SPRING_YEAR
* EX: RAINIERBEACH_AP_FULL_2018_2019
* Once the design is SAVED, go to the "My Designs" section under the "Account" tab at the top of the page to preview your design.
* Click on the "Details/Order" button to view the design.  Copy and take note of the 6-7 digit code found at the end of the design URL page.
* This code will be required when you order your T-shirts (described in STEP 4 below).
* EX: '68163' from http://www.uberprints.com/account/viewdesign/681653
STEP 4: SUBMIT ORDER TO UBERPRINTS
* Contact UberPrints directly at 1-866-440-8237 or email their customer service department at service@uberprints.com, They will assist you and confirm final pricing and payment method.
* Be prepared with the following information: T-Shirt sizes (S-XXXL), how many unisex vs ladies T-shirts, and your payment information.
STEP 5: DESIGN APPROVAL
* UberPrints will review all designs for final approval. If there are any issues with the design, a representative will be in contact with you.
STEP 6: RECEIVE T-SHIRTS
* T-shirts will be delivered directly to the school 4 – 6 weeks after you have submitted your order to UberPrints.
* ENJOY!!