Highlights: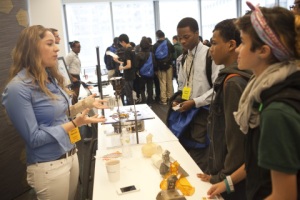 What: The Computer Science Opportunity Fair is an exploratory event for NYC public school students studying computer science. The goal is to provide a venue for students to learn more about the varied and exciting college and career paths in computer science. There will be speakers from the NYC tech community, product demos and activities. We aim to excite students about the different career opportunities that result from the CS pathway.
When: Friday May 30th, 2014. 9:30am – 2:45pm (schools will be assigned staggered arrival and departure times)
Where: Microsoft, 11 Times Square, 6th Floor
Who: Over400 high school students from around NYC who have been learning computer science (CS) through TEALS and other youth technology programs are invited to attend. Over 25 companies, universities, and organizations will participate. The event is powered by TEALS, CSNYC, and the New York City Economic Development Corporation to cultivate the next generation of computer science and technology talent in NYC.
Program Elements:
Computer Science Opportunity Fair
Engineers from NYC tech companies, game studios, college CS departments, and  STEM non-profits will host information booths, share their experiences, demo their latest products and developments, and answer student questions. Students may even walk away with handouts and swag!
Speaker Panel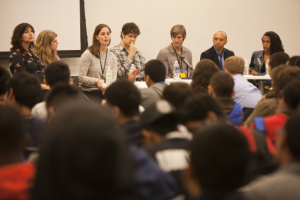 A panel discussion featuring a diverse group of technologists and entrepreneurs will discuss how computer science and technology have propelled their careers. The speakers represent career paths, projects, and industries, demonstrating that computer science is relevant to all types of careers, from fashion to social media to health! Students are encouraged to research the participants and prepare appropriate questions for the Q&A session during the panel.
Lunch
Lunch will be provided for all participants. During lunch, students are encouraged to eat with presenters from the fair and engage in deeper conversations about computer science, college, career paths, and other interests.
Note: Participating schools will be split into groups A and B prior to the event based on their distance and bell schedule.
Group A (half of students)

Group B (half of students)

9:30 – 10:00
Arrive/Register
—
10:00 – 10:15

Welcome

—
10:15 – 10:45

Opportunity Fair

Arrive/Register
10:45 – 11:30

Welcome, Speaker Panel

11:30 – 12:00
Lunch (food provided)
12:00 – 12:30
Lunch (food provided)
12:30 – 1:00

Speaker Panel

1:00 – 1:45

Opportunity Fair

1:45 – 2:00

Wrap-up and Raffle

2:00 – 2:15
Depart
2:15 – 2:30
—

Wrap-up and Raffle

2:30 – 2:45
—
Depart
What was it like last year? This is the first time this event has happened in NYC. Below are some words and images documenting last year's similar event in Redmond, WA.
Information for Booth Hosts
Click to view the Booth Hosts page.
Information for Schools
Click to view the Schools page.
Speakers
Charles Best (Founder/CEO – DonorsChoose.org)
Soraya Darabi (Co-Founder – Zady)
Vanessa Hurst (Founder – CodeMontage, GirlDevelopIt, DevelopersForGood)
David Karp (Founder/CEO – Tumblr)
Melissa Lafsky Wall (Founder – Brickwall Media, Former Editor – Newsweek)
Steve Martocci (Founder – Splice, Co-Founder – GroupMe)
Maddy Maxey (Thiel Fellow, Founder –  thecrated.com)
Jean-Luc Neptune (Former SVP – Health 2.0)
Serkan Piantino (Site Director – Facebook NYC)
Ryan Prichard (CTO – Knewton)
Fred Wilson (Managing Partner – Union Sq. Ventures, Board Chairman – CSNYC)
Saron Yitbarek (Hacker in Residence – New York Tech Meetup)
Booths
Companies
Buzzfeed
Etsy
Floored Inc
Gilt
Honeybee Robotics
Kapitall
Microsoft
The Microsoft Store
The New York Times
TreSensa Games
Yext
Colleges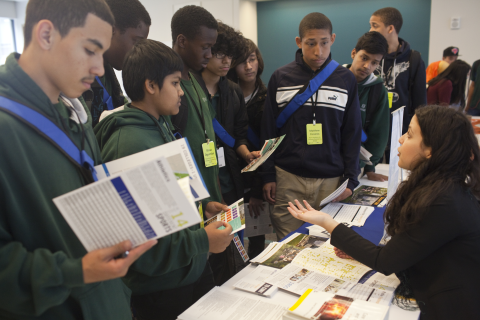 Brooklyn College
Columbia University
Cornell Tech
CUNY
NYU CS Department
NYU ITP
NYU School of Engineering Integrated Digital Media
Extra-curriculars
All Star Code
Coding4Success
GenTech
Girls Who Code
The Knowledge House
MakerState
New York Tech Meetup
NYC FIRST
oSTEM