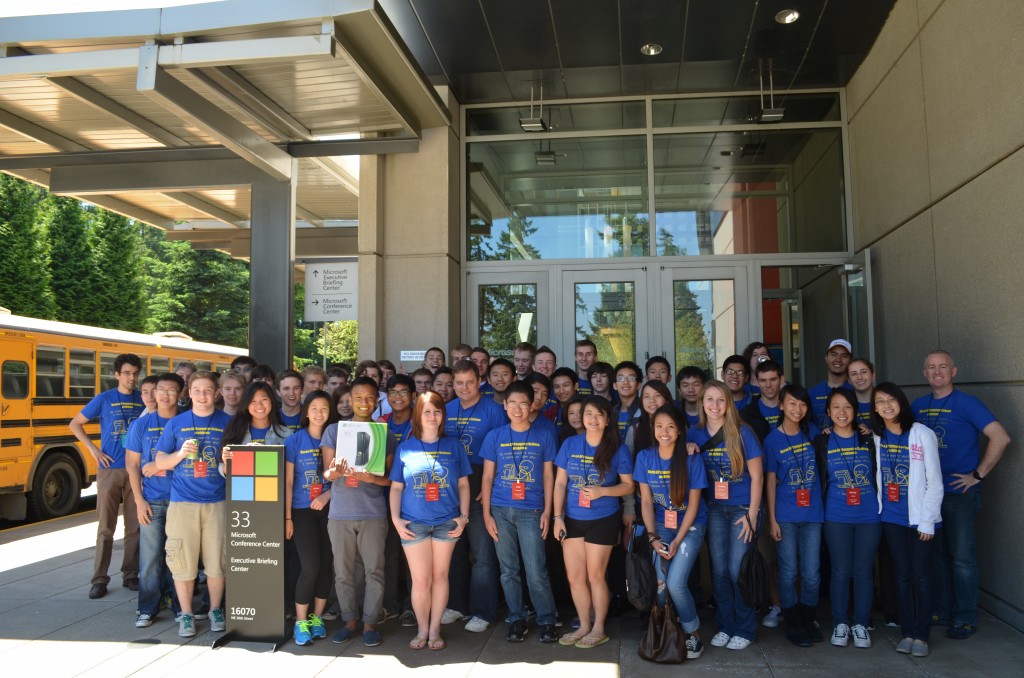 Highlights:
When: April 29th, 2014. 8:30am – 2:15pm
Where: Microsoft Redmond Campus, MS Conference Center, Building 33
What: Field Trip for over 1,000 high school students, from around the Puget Sound, who have been learning computer science (CS) as a result of participation in the TEALS program.
Purpose: The TEALS Student Field Trip to Microsoft is a capstone event for computer science students in TEALS classes. The goal is to provide a venue for students to learn more about the varied and exciting college and career paths in computer science. There will be presentations, demos and activities. Ultimately, we aim to motivate students to pursue the CS pathway.
Program Elements: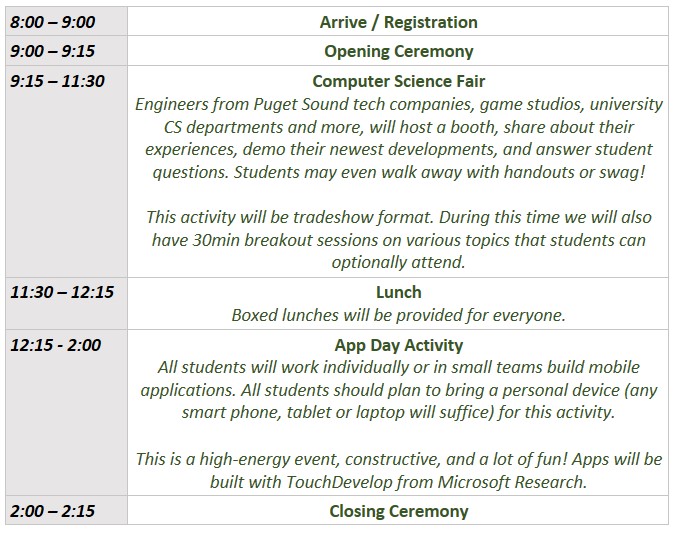 What was it like last year? Below are some words and images documenting last year's event. This year will be similar but also hold some new surprises.
(Click here for information for presenters.)
Information for Schools
Bus pick-up and drop-off
Busses may not park on Microsoft's campus.

School chaperones are responsible to account for all students getting back to school safely.
Lunch
TEALS will provide lunch for all students, chaperones, and volunteer participants.

There will be vegetarian and vegan options.

Individuals

with allergies or dietary restrictions are advised to bring their own lunch.
Expectations
Everyone in attendance must sign the Microsoft

photo release form

. This form must be signed and returned – at latest – a week prior to the event. Students or chaperones who do not sign this form cannot attend.
We will have pre-printed badges for everyone. Each school is responsible to provide – at latest – a week prior to the event a complete list of students and chaperones (first and last name) who will attend.
Schools are responsible to clear field trip participation with parents (permission slips, etc.) and arrange transportation.
We expect chaperones and teachers to be aware of student whereabouts at all times.
Visiting Microsoft's corporate campus is a privilege; all students are expected to dress and behave appropriately. Neighboring rooms in the conferencing center may be hosting events for business guests, executives or dignitaries.
It is our hope that students will show up enthusiastic about this opportunity to learn from some amazing people!
Driving directions
Microsoft Conference Center (B33)
Address:
16070 NE 36th Way
Redmond, WA 98052
Reception Phone: (425)406-0033
Parking Instructions:
Visitors may park in visitor spots located around the building. Primary parking for building 33 is in the underground garage. Overflow parking includes the building 36 and 37 garages. Microsoft employees can park in the surface lot or parking garage below the building.
Driving Directions to Building 33 from I-405 or I-5:
Connect with SR 520 East
Take ramp right and follow signs for NE 40th St
Turn right onto NE 40th St
Turn right onto 156th Ave NE
Turn left onto NE 36th St
Turn right onto NE 36th Way
Arrive at the conference center on the left
Driving Directions to Building 33 from downtown Redmond:
Connect with SR 520 West
Take ramp right and follow signs for NE 40th St
Turn left onto NE 40th St
Turn right onto 156th Ave NE
Turn left onto NE 36th St
Turn right onto NE 36th Way
Arrive at the conference center on the left