Inspiring NYC's next generation of computer scientists.
Highlights: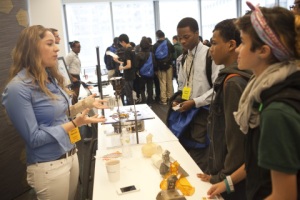 What: The Computer Science Opportunity Fair is an exploratory event for NYC public school students studying computer science. The Fair provides a venue for students to learn about the varied and exciting college and career paths in computer science. There will be speakers from the NYC tech community, product demos and activities. We aim to excite students about the different career opportunities that result from the CS pathway.
When: Monday March 16th, 2015. 9:00am – 3:00pm (schools will be assigned staggered arrival and departure times)
Where: Lerner Hall at Columbia University (Broadway b/w 114th and 115th)
Who: 1,100 NYC high school students who have been learning computer science (CS) through TEALS, SEP and other youth technology programs are invited to attend. Over 75 companies, universities, and organizations will participate. The event is presented by Microsoft TEALS and the New York City Foundation for Computer Science Education (CSNYC) to cultivate the next generation of computer science and technology talent in NYC. Generous support is provided by AOL, Facebook, and Two Sigma.
Program Elements:
Computer Science Opportunity Fair
Engineers from NYC tech companies, game studios, college CS departments, and STEM non-profits will host information booths, share their experiences, demo their latest products and developments, and answer student questions. Students may even walk away with handouts and swag!
Speaker Panel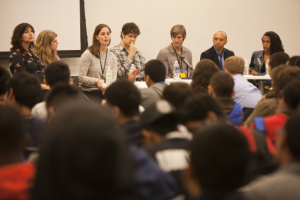 A panel discussion featuring a diverse group of technologists and entrepreneurs will discuss how computer science and technology have propelled their careers. The speakers represent career paths, projects, and industries, demonstrating that computer science is relevant to all types of careers, from fashion to social media to health! Students are encouraged to research the participants and prepare appropriate questions for the Q&A session during the panel.
Presenters:
This year's presenters include…
Morning Panels
Moderated by: Devindra Hardawar (Sr. Editor, Engadget)
John Henry (Director of Strategy, cofound/harlem)
Maddy Maxey (Thiel Fellow – CEO/Founder, The CRATED)
Gerard O'Neill (Software Engineer, Etsy – Instructor, General Assembly)
Serkan Piantino (Site Director, Facebook New York)
Chris Wiggins (Chief Data Scientist, NYTimes – Assoc. Professor, Columbia U)
Suzanne Xie (Founder/CEO, Hullabalu)
David Yang (CEO, Fullstack Academy)
Afternoon Panels
Moderated by: Marcus Mitchell (Sr. Engineering Director, Google)
Jessica Banks (CEO/Founder, RockPaperRobot)
Avi Flombaum (Dean/Co-Founder, The Flatiron School)
Bill Pence (Exec VP/CTO, AOL)
Kelsey Recht (Founder, VenueBook)
Hoop Somuah (Principal Software Design Engineer, Microsoft)
Robert Ying (CS Undergrad, Columbia U)
For full speaker bios please click here.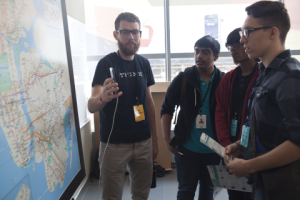 Companies
AOL
Codesters, Inc.
Etsy
Facebook
Floored Inc
Google
IBM
J.P. Morgan
Jozii LLC
Kickstarter
Microsoft
NYTimes
onTarget Technologies Inc
PhotoShelter
Stack AI
TreSensa
Two Sigma
Vidcode
Viridis Learning
Yext
Colleges/Universities
Columbia University Office of Undergraduate Admissions
Columbia University, Computer Science
CUNY- City University of New York
CUNY – Graduate Center
ITP/NYU
NYU Courant
NYU Game Center
NYU ITP
NYU Poly
Pace University
Extra-curriculars
All Star Code
CSTUY
Dream it. Code it. Win it.
FIRST Robotics
Flatiron School
Girls Who Code
Network for Teaching Entrepreneurship
NYC Department of Youth and Community Development
NYC Parks and Recreation – Computer Resource Centers
The Flatiron School
The Knowledge House
Maker Booths