Highlights: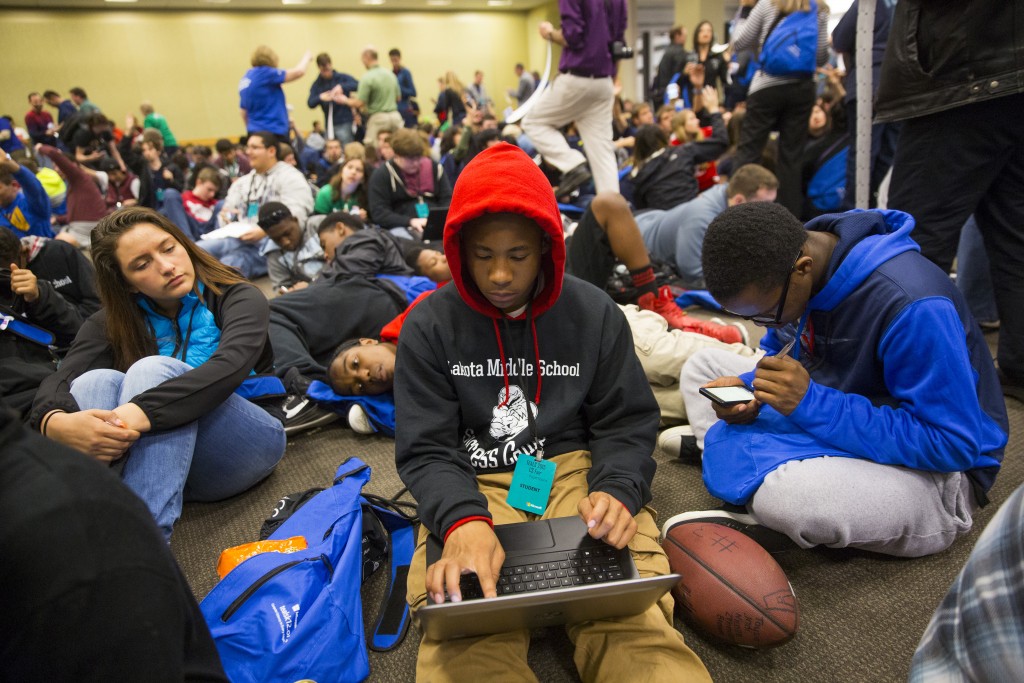 When: Friday, April 1st, 2016 9:00AM-1:30PM (Do not drop off students any earlier than 8:45AM.)
Where:Microsoft Redmond Campus, MS Conference Center, Building 33
What: Field Trip for more than 1,800 high school students from around the Puget Sound who have been learning computer science (CS) as a result of participation in the TEALS program.
Purpose: The TEALS Student Field Trip to Microsoft is a capstone event for computer science students in TEALS classes. The goal is to provide a venue for students to learn more about the varied and exciting college and career paths in computer science. There will be presentations, demos and activities. Ultimately, we aim to motivate students to pursue the CS pathway.
IMPORTANT: Everyone in attendance must sign the Microsoft photo release form. Students and chaperones must return signed forms by March 11th, 2016. Students or chaperones who do not sign this form cannot attend.
Fair Agenda and Details:
8:45 – 9:30am

Arrive/Check-in. We cannot admit anyone into the building before 8:45am.

Students will receive a bag and a "raffle card" to fill with stickers. Stickers are acquired at fair booths and breakout sessions. Students can enter their filled cards into the raffle drawing. Grand Prize: Xbox One!

9:00 – 12:15

Computer Science Fair

The fair has a trade show format. Students should come prepared to ask questions at the booths.

Engineers from Puget Sound tech companies, game studios, university CS departments and more, will host booths, share their experiences, demo their newest developments and answer student questions. Students may even walk away with handouts or swag!

9:15 – 12:15

Breakout Sessions: Panels/Presentations

Students can attend 40-minute breakout sessions on various topics that students can optionally attend (see below).

12:15 – 1:30

Lunch and Activities

1:15 – 1:30

Closing Ceremony and Raffle
Breakout Sessions/Workshops
"Making Games for a Living": Hear from engineers from different game companies (Team Meat, ArenaNet, Microsoft XBox) as panelists share stories and insights from their careers in creating games.
"Internship Bootcamp": Get resume and interview tips, learn about working with and talking to company recruiters, and get ideas for how to make yourself a competitive CS internship applicant.
"Learn About University CS Programs": A conversation with CS professors from UW, UW Bothell, PLU, and UIdaho about admissions, undergrad opportunities, what it's like to be a CS major/minor, and what you can do now to prepare.
"Making Minecraft: A Journey of Game Development": The Minecraft team discusses how a gaming studio comes together to ship a game.
"Mini-CodeDay": Beginner students – bring a friend, make a game! Meet students with ideas from other schools, and get an idea for the huge amount of creativity involved in programming. Start working on a project of your own creation with a friend from your class.
Colleges & Universities
AccessComputing – University of Washington
Bellevue College
DigiPen Institute of Technology
Georgia Tech
Massachusetts Institute of Technology
Pacific Lutheran University
University of California – Berkeley
University of Idaho
University of Illinois at Urbana-Champaign
University of Washington
University of Washington – Bothell
University of Washington – Practice-It!
Washington State Opportunity Scholarship
Microsoft Groups
Azure Machine Learning
CS50/Creative Coding through Games and Apps
Dynamics CRM
Garage
Hydroponics
Lawyers with CS Degrees
Micro:bit
Minecraft
Office for Mac/iOS
Small Basic
Sway
Windows and Devices Data Science
Windows Experiences
Xbox
YouthSpark
Companies & Organizations
Amazon
ArenaNet, LLC
Blue Origin
ChickTech
EMC
Expedia
Facebook
Foundry10
Girls Who Code
Google
Kidware Software
PlayFab
Rinworks, LLC
Seattle App Academy
StudentRND/CodeDay
Tableau
Technology Alliance – Youth Apps Challenge
Ucodemy
Zillow
Information for Schools:
Bus pick-up and drop-off
Buses may not park on Microsoft's campus.
Buses should pull all the way up in the drop-off zone at the front of MSCC.
School classroom teachers and chaperones are responsible to account for all students getting back to school safely.
Lunch
TEALS will provide lunch for all students, chaperones, and volunteer participants.
There will be vegetarian and vegan options.
If you have a student with allergies or dietary restrictions, contact Rachel Brown to make accommodations.
Expectations
Everyone in attendance must sign the Microsoft photo release form.

Students participating in the 2015 TEALS CS Fair at Microsoft Redmond.

Chaperones and students must sign and return these forms – at latest – a week prior to the event. Students or chaperones who do not sign this form cannot attend.

We will have pre-printed badges for everyone. Each school is responsible to provide – at latest – a week prior to the event a complete list of students and chaperones (first and last name) who will attend.
Schools are responsible to clear field trip participation with parents (permission slips, etc.) and arrange transportation.
All students must stay inside the Conference Center building for the duration of the visit. Chaperones and teachers must inform students of this requirement, and be aware of student whereabouts at all times.
Visiting Microsoft's corporate campus is a privilege; all students are expected to dress and behave appropriately. Neighboring rooms in the conferencing center may be hosting events for business guests, executives or dignitaries. Teachers and students are strongly encouraged to wear your TEALS t-shirts to show your school pride!
It is our hope that students will show up enthusiastic about this opportunity to learn from some amazing people!
Driving Directions:
Microsoft Conference Center (B33)
Address:
16070 NE 36th Way
Redmond, WA 98052
Reception Phone: (425)406-0033
Parking Instructions
Visitors may park in visitor spots located around the building. Primary parking for building 33 is in the underground garage. Overflow parking includes the building 36 and 37 garages. Microsoft employees can park in the surface lot or parking garage below the building.
Driving Directions to Building 33 from I-405 or I-5:
Connect with SR 520 East
Take ramp right and follow signs for NE 40th St
Turn right onto NE 40th St
Turn right onto 156th Ave NE
Turn left onto NE 36th St
Turn right onto NE 36th Way
Arrive at the conference center on the left
Driving Directions to Building 33 from downtown Redmond:
Connect with SR 520 West
Take ramp right and follow signs for NE 40th St
Turn left onto NE 40th St
Turn right onto 156th Ave NE
Turn left onto NE 36th St
Turn right onto NE 36th Way
Arrive at the conference center on the left