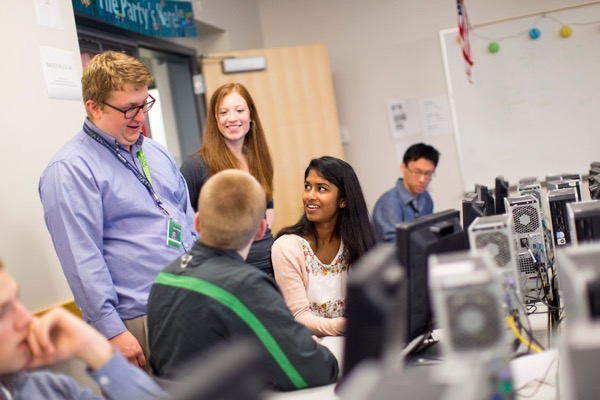 Aishwarya Manoharan
Aishwarya Manoharan had never been interested in technology until trying it out in an AP Computer Science TEALS class at Woodinville High School in Washington. TEALS relies on industry volunteers from more than 400 companies to co-teach CS with classroom teachers. Volunteers make a difference in the lives of individual students like Aishwarya while building sustainable CS programs in High Schools across the country.
Here, University of Washington freshman Aishwarya shares how discovering computer science opened her eyes to how she can use technology to change the world.
---
I was born in a small town in southern India, where a lot of my family still lives, but moved to the United States before I even started school. I still go back and visit, though. The last time I stayed there, I realized that my experiences taking computer science courses, teaching myself programming languages at night, and spending summers in technology camps like Girls Who Code changed how I see the world. I now know that I can make a real difference in the world through technology.
When I saw schoolchildren walking with loads of books, I wanted to expand their capacity for creativity outside of those pages and bring a world of information to their fingertips. When I saw laborers working the rice paddies under the sweltering sun, I wanted to increase their efficiency through sustainable farming practices. When I saw the hot sun pounding on the bare rooftops of the houses, I wished to see the shingles replaced by solar panels.
I started thinking like this—in terms of how to change the world through technology and access to information—after I took AP Computer Science through TEALS at my high school.
Unlike my other classes, professionals from the field taught TEALS, alongside the school teacher. Every morning during class I got to learn from engineers and software developers—people who were actually using what we learned in class. They helped bridge those lessons to the real world and taught me that computer science wasn't only about some white guy hunched over his computer by himself all day.
CS isn't just memorizing formulas and regurgitating the information. Your success is all up to you, how you think, your logic and your creativity. For example, after I finished the class, a friend and I created a project that programmed imaginary fish to react when someone threw garbage in the ocean. It raised awareness of the problem of pollution and plastics in the ocean. I was proud to bridge my passions of computer science and environmental conservation in a real, creative way.
I'm not entirely sure how I'll leave my mark on the world—I'm only 18, so I have time to figure that out! But what I do know is that I'll be a part of computer science breakthroughs that will help us take small steps toward a better future.