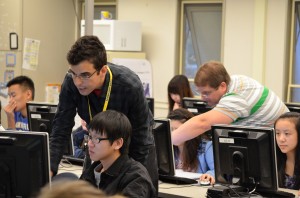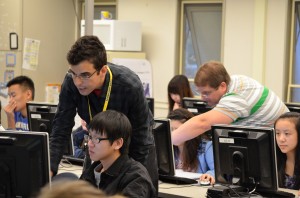 According to a 2013 study by Code.org, 90% of US schools do not teach computer science. With software engineers in high demand in the private sector, schools often cannot find instructors with a computer science background, and struggle to compete with the compensation packages offered in industry.
TEALS helps high schools teach computer science by providing a team of trained volunteers to partner with a classroom teacher and deliver computer science to their students. Over 2-3 years, the classroom teacher gradually takes over the responsibilities of teaching the course.
The Volunteer Role
We need passionate, dedicated industry professionals to volunteer in our partner schools!
All TEALS volunteers work with a partner classroom teacher and get to interact directly with students. In addition to your role as an instructor, you'll share with the students your personal story and help inspire them to explore a career or education in computer science.
As part of placement in a teaching team, volunteers are assigned one of two roles: teacher and teaching assistant (TA). Teachers and TAs attend class and work with students during lab. Teachers prepare and deliver lessons, while TAs focus on grading assignments. The TA time commitment is slightly smaller than that of the teacher.
The Opportunity and Commitment
TEALS offers a unique opportunity for technology professionals to co-teach computer science in a high school, and help establish a sustainable computer science program at the school.
There's no beating around the bush. Volunteering with TEALS requires an extraordinary commitment. We estimate the total volunteer commitment for one year (June-June) is 300 hours, including 50 hours of training material over the summer. Most of our high school classes meet 1st period so volunteers can teach and get in to work, which can mean teaching as early as 7:30am.
2015-16 School Partnerships
This map represents the schools that have applied for a TEALS partnership and have been accepted for the 2015-16 school year or whose applications are still under consideration. Please note that this list is not final and is subject to change. Click here for a large map illustrating all partner schools.
More Information and Application
If you're interested in volunteering with TEALS, you should first attend an information session (in-person or online). The application is available at www.tealsk12.org/apply. More information about the program is available throughout the pages of this website.