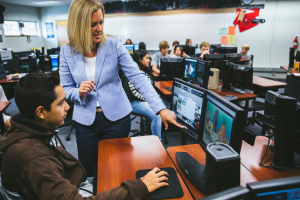 Shelley Charlton is a business and computer science (CS) teacher at Chelan High School in rural Washington State. She never imagined she could teach a STEM subject, but two years ago she started instructing CS with the support of TEALS (Technology Education and Literacy in Schools), the Microsoft Philanthropies-run initiative to ensure CS is taught in every high school in the U.S. The TEALS program was a good match for Shelley and her small school because volunteers, who assist teachers and help instruct students, are equipped to videoconference into the class. TEALS matches teachers new to CS with industry volunteers, who work at nearly 700 companies nationwide. By training the teacher, TEALS creates sustainable CS programs across the country.
One night at the kitchen table a few years back, my oldest son asked me for homework help—a pretty typical family scene, right? But when I took a look at his assignment, I realized I had no idea how to help him. He was taking computer science at his high school, and I had zero knowledge of this subject that experts call as crucial as reading, writing and math.
In fact, the principal at the high school where I teach business education had asked me to learn how to teach computer science several times before, but I always said no. After all, I have three teenage sons and plenty on my plate already. I thought I had no time to go back to school and learn a new subject from scratch.
But that night when I was powerless to help my son, I began to question my resistance. I later sat in on his computer science class, which was taught by a teacher trained by TEALS. She hadn't had previous CS experience, either, and I was impressed. She sure seemed like she knew what she was doing!
So I decided to jump in with the support of TEALS. Ultimately, I wanted to give my students at Chelan High School the best opportunities I possibly could. I didn't want their future to be limited just because they grew up in a rural town—or because I was nervous about trying something new.
Teaching CS has been a huge learning curve for me. I did TEALS trainings before I started teaching, which helped. My sons also sat next to me as I tried out assignments, and they guided me when I got stuck. Finally, having industry volunteers conference call into my class was what made me feel like I could become a CS teacher.
To set up your students for success in CS, you have to make them feel like they can try, and fail, and try again—but ultimately figure out the answer. The TEALS curriculum and use of volunteers, whether in-person or online, provides enough support that they get the encouragement they need to create imaginative, inventive and totally unique projects.
I wasn't shy about not being an expert. I told my students, "I'm learning alongside you. I don't always have the answers, but we can figure it out together."
And honestly, they teach me as much as I teach them! I see what they create and I think oh my gosh, how did you do that? Then they show me, and I'm able to incorporate that tidbit of knowledge into future classes. They encourage me, too. They egg me on to be more creative and to challenge myself. They motivate me to keep learning and keep trying because I have to keep up with them!
I would never have learned to teach CS without TEALS. This program is a safe, easy way to learn a new subject, and it comes with all the built-in support I need as a teacher.
Thanks to TEALS, the hard work of our other STEM teachers and the time of volunteers, we've grown the beginnings of a solid computer science program in our little town. I think about my sons, and their friends, and all my students who now have a wider perspective on what's possible for them. Not everyone leaves my class wanting to be a programmer or software engineer, and that's ok. But they all leave with a better understanding of a skill that's fundamental to just about every job out there today.
I also see some students who want more—who get a taste of CS and run with it. I see that they're inspired by what they've learned in my class and can't wait to see what they do next. That's what teaching is for—that's why I do this.
To learn how you can be a change-maker like Shelley and bring CS to your school, visit our Schools page.