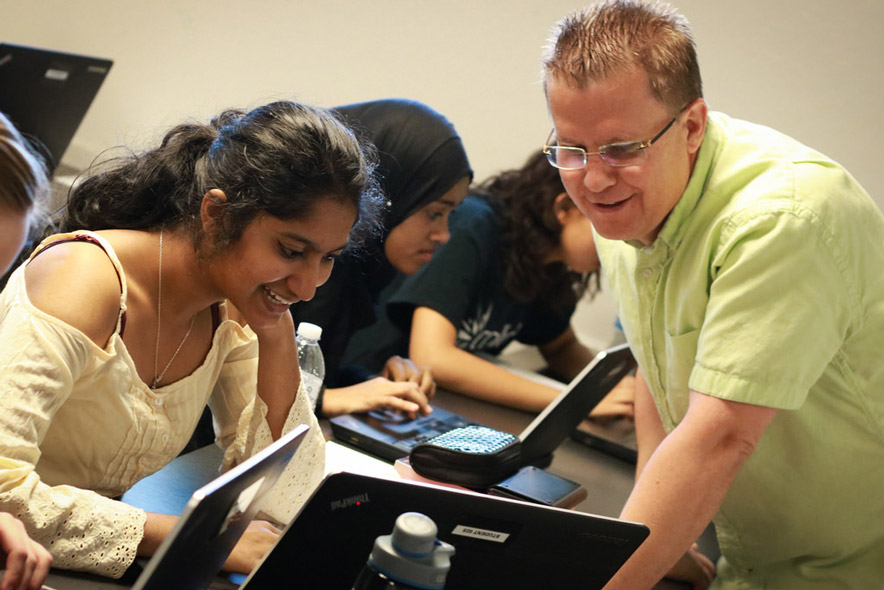 Mark Dancho
Mark Dancho, a software engineer for SanDisk, volunteers in a TEALS introduction to computer science class at BASIS Chandler, a tuition-free charter school outside Phoenix. The Microsoft Philanthropies-supported TEALS program trains volunteers from hundreds of tech companies, places them in schools that do not have computer science programs and supports them as they teach students and a classroom teacher. In two years, that teacher is able to teach computer science entirely on their own. This model is growing self-sufficient computer science programs in schools across the nation—increasing access to STEM education and the opportunities that coincide with learning CS.
Here, Dancho explains why he volunteers in TEALS. Learn more about how to volunteer with TEALS here.
---
Not long ago, the head of school at BASIS Chandler sent out an email asking parents to volunteer. My kids go there, and I would love to volunteer, but being a lunchroom monitor was just not my thing. When I found out they were starting the TEALS computer science program, I looked into it. TEALS has a curriculum, volunteer training and support—and I knew I could help.
I've seen the class's students evolve throughout the year. When we began, we asked students why they signed up for the class, and many said they did because their parents thought it was a good idea. But as time went on, they ended up really liking the class, sometimes in spite of themselves!
In TEALS we're showing students that computer science is fun. We started with drawing with code, essentially: It allowed them to be creative without getting bogged down in the text. Now we're doing Python, which is much more challenging, but many of the students like it even better!
I see in our students the joy of creating things. When they write a program—for instance creating a version of Mad Libs, which they did the other day in class—it invariably won't work the first time. They struggle with that. Then they when it finally works, it's great, and they realize, "I created that. I get how it works!"
In this class, they're not just doing math problems every night, or something else that doesn't feel relevant to their lives. In this class they're going to create something—to make something that didn't exist before.
I see the growing impact TEALS is having on this school. Mr. Bostaph, the classroom teacher, is already teaching some of the class. I like that the TEALS program is designed so the school will need volunteers less—within the next year or two, Mr. Bostaph will do it all on his own without us. He's learning as we go: He sees how volunteers approach a topic, and then he incorporates his own ideas. At the same time, I watch him—like how he regains control of the class when it's too loud, or if the kids aren't paying attention. So my own teaching is getting better and better.
Plus, I watch my fellow volunteers. We all come from different companies, from Intel and SanDisk and Microsoft. We all have different styles and approaches to teaching computer science. Beyond that, they're now colleagues and friends I wouldn't have crossed paths with were it not for TEALS. We're working across companies to improve computer science education in schools. We're all in this together.
TEALS is touching the lives of so many youngsters and help expand their opportunities in the world. But it's not good just for them; I get a lot out of volunteering, too! A lot of times teaching and seeing my students work is one of the biggest joys I get out of the day. And it sure beats being a lunchroom monitor!